I've Warned Foluke Daramola Never to Bring Gifts from Pastors Home…Kayode Salako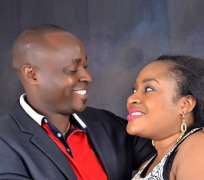 Nollywood actress, Foluke Daramola, is indeed blessed to have married a good man, Kayode Salako, who has come to understand what the society has turned into and he has been guiding his home with all his strength.
Kayode, a social commentator, has disclosed that with the high rate at which some Pastors give out gifts, he has warned her never to bring such a gift to the house.
He stated that people go about collecting gifts from pastors but they do not ask questions or know the source of their wealth.
He further pointed out that some of those who have collected gifts from these self-acclaimed pastors who have nothing to do with the real God in heaven are now battling with one form of sickness to the other.
According to him, "It is dangerous to accept the gift of a car or a house from a man of 'gods' you don't know the true source of his wealth. I always tell my wife, I won't allow her bring such a car home. They have collected his cars, now, they are battling with one problem or another. Most of these places we think are places of God don't have anything in common with the true God. They are destiny swappers and glory suckers. I am close, well informed and exposed enough to know this fact."