December 25, 2016

| AMEBO
Singer, Blackface Reveals the Lady Behind his Success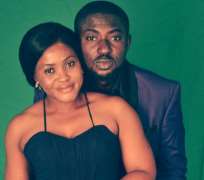 Former Plantashunboiz singer, Blackface, has been living a very quiet lifestyle for a while now but that has not stopped him from making some nice tunes in the studio.
The singer has come a long way in the Nigerian music industry as he started out with his friends, 2Face and Faze, until they finally went their separate ways after making some great tunes in the early days when hiphop newly gained attention in Nigeria.
Many have been wondering why he has been doing things alone without a woman in his life especially since his marriage breakup with his wife in 2011, but he has never been worried because someone that understood his hustle was right there for him.
The singer, on the eve of Christmas, personally revealed the woman that has been supporting him from day one when other turned their back on him.
While praising the his woman Martha Adama, who happens to be an EX Nigerian Customs Point Guard, he wrote; "Sometimes you find someone who sticks by you through the ups and the downs and some stick by you only when you can afford to give them whatever they want and whenever they demand whatever but this lady right here has been by my side through thick and thin and supported my notions and drive when nobody believed in me anymore. Thank you for being a friend unconditionally Martha Adama. Love you scatter my sweet heart."