A converging point for film lovers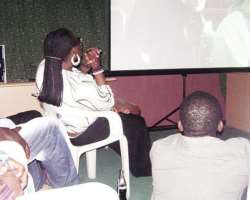 The second of a series of monthly events tagged 'The Film Forum' was held on May 12, 2010 at the Centre of Excellence and Media Studies/Amaka Igwe Studios, Marwa Gardens Alausa, Ikeja. The forum features one film a month, to be watched by a mix of filmmakers and cinema enthusiasts.
The film show started an hour late, at 5pm; but it was a full house of more than 30 people. The movie shown was Amistad a 1997 epic directed by Steven Spielberg, based on the true story of a slave mutiny that took place aboard the eponymous ship in 1839, and the legal battle that followed.
Amaka Igwe a filmmaker and director of the centre said: "The Centre of Excellence and Media Studies is trying to promote excellence amongst filmmakers in Nigeria. So, the Film Forum is an avenue for filmmakers and film enthusiasts to watch films together and critique and take away things, from the cinematography to the editing; directing and acting. "
She added that in the first edition of the forum they saw 'The Blind Side', an American sports biopic that earned Sandra Bullock the Best Actress Oscar in February. Recalling the screening, Ms Igwe said, "It was amazing. The house was full. Some didn't like the film and some liked the film. The argument was whether she deserved an Oscar or not."
Chris Ihidero, movie director and also a director of the centre, said: "The Film Forum is a get together, a gathering of filmmakers, film enthusiasts and film lovers to watch a film together. We provide popcorn and drinks and create a cinema experience. We screen the film on a big screen and after watching the film we have an informal exchange of what we think of the film. The goal is to make better filmmakers; if the filmmakers get better then Nollywood would be better."
He added that the venue is a resource centre. "We have at least 100 original DVDs of the best movies ever made, contemporary and old ones that have become classics. We have Nigerian films, the classic of Nollywood -. 'Rattlesnake,' 'Violated,' 'Onome,' and 'Mortal Inheritance.' We may even screen an Emem Isong film next and invite her to come here and we would share with her. People would go happier and better."
Some comments
Olusegun Dada, a journalist and a filmmaker, said, "The Film Forum is a very good development. There are a lot of things I have learnt today while watching the film."
Manfriend Uche, an actor, screenwriter and aspiring film director praised the Film Forum as a novel idea; and criticised Nollywood as suffering from what he called a 'face' syndrome. He noted that in Amistad the lead actor was not a known face at the time it was being produced, but in Nollywood it is all about the faces. He concluded by saying that they can't fix a square peg in round hole just to satisfy the 'face' syndrome.
Queen Martins, a video journalist and aspiring filmmaker, said, "I attended the film forum for the first time yesterday and it was a very exhilarating experience. Reviewing the work of a pro like Steven Spielberg was educative. As an individual, I learnt a lot about certain standards that must be upheld while making a film. I also want to commend the organisers of this event, it shows that industry practitioners in Nollywood are passionate about taking filmmaking to the next level. It is a session that I'd recommend to the novice and the professional."
The film, Amistad, set the forum alight. People had different views about the film, and Nollywood was given a lot of knocks after the screening. Viewers inevitably compared the featured film to those churned out by Nollywood. There were a lot of lessons learnt on how to make Nollywood better. As Chris Ihidero said, "The goal is to make better filmmakers. If the filmmakers get better then Nollywood would be better."