Singer, Jodie on Mother's Role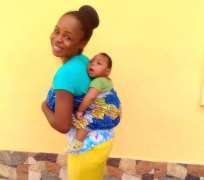 Singer, Jodie, has been enjoying motherhood and she is really enjoying it without any issues. She was seen recently taking up the African woman's role just like her song.
Rather than use the popular baby carrier women chose to use these days to carry their babies, the singer did hers the African way by tying her baby on her back.