See what Actress, Tayo Sobola Ordered for as Lunch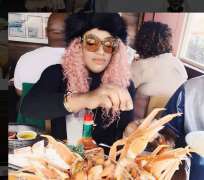 Nollywood actress, Tayo Sobola, is currently enjoying her life to the fullest maximum as she ordered for lots of sea foods to make her day worthwhile.
What more can she ask for after having a blossom career in 2016 so it's time for her to relax and enjoy her wealth and other achievements this year.
She has been able to walk home with some awards, open a production outfit where she also employs labour and now she is counting down to when she will be settling down to have her own kids.