Actor, Emeka Ike Walks Down the Aisle with Another Lady (photo)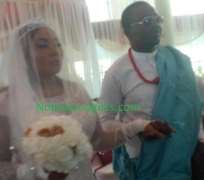 Nollywood actor, Emeka Ike, has not had it rosy with his matrimonial home and for a while now not many have had any idea of what is really happening to his marriage.
Several months back, it was in the news that his wife had filed for divorce and the case was still pending in court while the actor continues to play both parental roles for his kids.
Well, it is his private life all the same but what fans can't understand now is if the actor has accepted the divorce letter, that, only time will tell.
Over the weekend, the actor took up the fatherly role as he handed his younger sister's hand in marriage, while urging the groom to be of good cheer and make the home a happy one.
If one is out of knowledge, it would have been concluded that the actor has remarried but thank God, it's his kid sister who is about starting another phase of life.
Congrat to them.