Qique Fuego Ft. Killa Kyleon and Stic.Man (of Dead Prez)—Black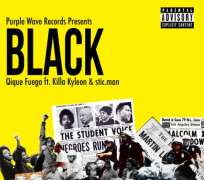 Growing up on the north side of Houston, TX, Enrique Ramirez, also known by the moniker Qique Fuego, knew he was destined for greatness. As a songwriter, artist and producer, he displays his wide range of talents and creativeness through music.
Deriving from the same city as some well-known rap legends, he has made his mark in the rap game with his insane punchlines, profound lyrics, and immeasurable delivery. Constantly growing and improving on his artistry, it can safely be said that it is inevitable that he will soon become a legend in his own right.
In his adolescent years he was not only musically inclined but was also very intelligent and an exceptional athlete. He played several sports on a high school and collegiate level but he always felt that one of his main passions was his music. Having a sixth sense in recognizing true musicianship, he found himself being influenced by the late and great Big L, Eazy-E, Notorious B.I.G, Spice 1, NWA, Too $hort, Scarface, UGK, Geto Boys, Outkast, 50/50 Twin, Camron and Jadakiss, and that began his interest in song writing. In 2004 he met OG Ron C of Swisha House and became a part of his Wreckin Yard label and gained a lot of business acumen from Ron C.
In 2005 he teamed up with 50/50 Twin as a part of Roc 4 Roc Records, where he developed immensely as an artist and found his sound that is uniquely his own. After some time, he decided it would best to complete his collegiate education, and he successfully obtained his degree in engineering. During his hiatus from the music scene, he pursued a career as an engineer and took advantage of some opportunities to play in several independent professional baseball leagues. He focused mainly on his career and family until he found a way to simultaneously give 100% to his music as well.
Recently, he and Lil Ray has teamed up to form the soon to be Indie Powerhouse, Purple Wave Records. With a plethora of amazing singles and mixtapes due out in 2017, we can only expect and await nothing but greatness from Qique Fuego
Follow @qiquefuego on twitter!
soundcloud.com/QiqueFuego
instagram.com/qiquefuego
facebook.com/qiquefuego
Google+: Qique Fuego
iTunes: goo.gl/q66Qmy
www.qiquefuego.com
Download Qique Fuego Ft. Killa Kyleon & Stic.Man (of Dead Prez) - Black Clean
Download Qique Fuego Ft. Killa Kyleon & Stic.Man (of Dead Prez) - Black Dirty
Download Qique Fuego Ft. Killa Kyleon & Stic.Man (of Dead Prez) - Black Clean Acapella
Download Qique Fuego Ft. Killa Kyleon & Stic.Man (of Dead Prez) - Black Dirty Acapella