Queen Juliet Okoroafor Set To Give Out Free Glasses To Eye Problem Victims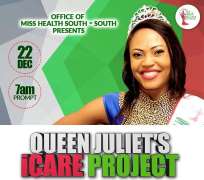 One beauty queen who believes that being a beauty queen is not just about wearing a crown is Queen Juliet Okoroafor, Miss Health South South, 2016/2017.
Through her pet project tagged, "Queen Juliet Icare Project" Queen Juliet has added her voice to the campaign. For the Port-Harcourt-based beauty queen, eye diseases are a major concern in the society. While her reign lasts, Queen Juliet wants to be a very vocal advocate against diseases in the society.
Isiokpo Community in Ikwerre LGA in Rivers State remains one community with the highest eye problem victims in Nigeria.
Speaking with newsmen in Port Harcourt, Queen Juliet Okoroafor said that the Queen Juliet Icare Project is aimed at reducing eye problems victims to a low level in Isiokpo community, she also emphasized on how to reduce eye problems which are focus on Nutrition, Quit Smoking, Wear Sunglasses, Prevent Injuries, Get Regular Eye Exams and Reduce Eyestrain.
She also rounded it up by Thanking the Ministry of Health, Rivers State Ministry of Health, NMA Rivers State Chapter and other organizations for supporting the great initiative.
Queen Juliet Okoroafor has also done several health outreaches in the Niger Delta.