Actor, Segun Arinze About to Commit 'Suicide'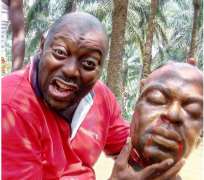 When some actors are busy creating controversies for themselves, Nollywood actor, Segun Arinze, is busy smiling to the bank each week as he has been very busy at various movie location.
But hey, he can't just hustle all week without rushing home to see his family and give his wife a kiss before dashing back to location and he has been able to hold his head high in the industry.
Segun is currently on a set where he is about to behead himself as replica of him was created. He had to hold his head in shocked how the industry's makeup artistes have so improved themselves that they make nearly everything look so real.