Bimbo Akintola Gets Another Award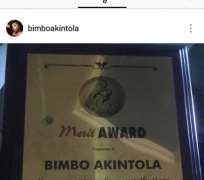 Bimbo Akintola has once again been recognized for her immense contribution to the growth and development of the Nigerian movie industry.
The multi-talented actress was given a merit accolade at the Cross River Movie Awards in Calabar on the 11th of December 2016.
Bimbo Akintola has been gaining so much after her unparalleled role in the movie '93 days '
''I am delighted to have this accolade and I look forward to contributing more to the success and improvement of Nollywood ''… Bimbo Akintola
The 4th edition of the Cross River Movie Awards took place at Transcorp Metropolitan Hotel in Calabar. The yearly event is organised to facilitate and recognize contributions made by movie makers and thespians across the federation.