Album: Bishop XL---Enter D Excel (@BishopXL1)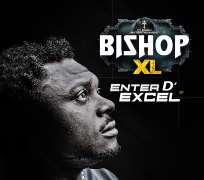 Chukwuka Nwabueze popularly known as"Bishop XL", is a Nigerian-born Hip hop/Dance hall artist,who was born in the 90s, grew up in his home town Awka, where he did his primary and secondary school, all in Anambra State.
The name, "Bishop" was given to him by his cousin who thought it was a name fit for a preacher's son. He was influenced by Hip-hop, R&B and Dance Hall music back in the 90s.
As a teenager, he started rapping and miming popular songs. He became famous among his peers both in school and on the streets. Between 1999 and 2000, he had already written and composed a couple of songs. He also performed in a couple of school events. Knowing fully well that he was talented in songwriting, singing and rhyming, Bishop XL decided to go professional.
In October 2005, he started his journey in music recording and rounded off his 7-track EP in 2007. His 2-track promo CD was granted Air Play in Cosmo FM Enugu back then. Bishop Could not continue with his career in music, so he traveled to Japan for business and he excelled , but his passion for music could not be daunted. In 2011, he established his own record label, Clergy Entertainment." Bishop decided to add "Excel" to his stage name thus,
"Bishop XL".
Full of inspiration, perception and determination, Bishop XL has emerged a sensational hip-hop/Dancehall artist with a real message nurtured in positive energy and lyrics. " Enter The Excel" is his newest single getting ready to hit the airwaves soon, Bishop XL express his rapping ability in igbo language to show that he can hold his own in the ever increasing stiff and tight competition in the Nigerian music industry. Produced mixed and mastered by one of the old veteran and the most travelled DJ in the business D J WILLIE O. The single is already making waves in Tokyo and set to release it's video which was shot as a viral video is catching much media attention and cannot wait to hit the internet with a breaking ground record which will be a wow to lovers of good music,so keep your stakes high and also those fingers of yours crossed as you wait to listen, buy and download Bishop XL "Enter The Excel
DOWNLOADEnter the Excel via iTunes
DOWNLOADEnter D Excel Album FREE
Download Tag Link:
https://cloudup.com/files/iGfsKiyNAZe/download
iTunes Link:
https://itunes.apple.com/ng/album/enter-dexcel-ep/id1115890073?app=music&ign-mpt=uo%3D4
POST SAMPLE LINK
http://www.toosweetpromo.com.ng/2016/12/album-bishop-xl-enter-d-excel-bishopxl1.html