Devontaii---Let Me Talk 2 Ya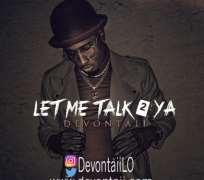 Devontaii is a talented producer & artist out of Miami with his own style of R&B. He's been producing & writing music with this new smooth & RAW genre of R&B.
His first production made a significant statement that showcased his skills that earn him a lot of respect & recognition. Now here you have it Devontaii "Let Me Talk 2 Ya" the New Age of R&B straight out of Miami.
Follow @dman_beatz on twitter!
Follow @dollyhoodrecord on twitter!
www.devontaii.com
Download Devontaii - Let Me Talk 2 Ya Clean
Download Devontaii - Let Me Talk 2 Ya Dirty
Contact: [email protected]