Victoria Kimani's 'Safari' Album Now Out! || Giving You Ft. Sarkodie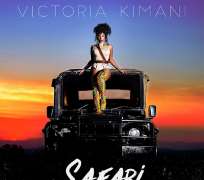 Chocolate City is proud to present the highly anticipated 'Safari' album by Africa's top music diva, Victoria Kimani.
The 'Safari' album shows off Victoria Kimani's versatility and definitely takes the lead as Africa's most internationally acclaimed album with quite a few international features and production credits going to top music producers all around the world.
The 'Safari' album is now available worldwide on iTunes, Mziiki, Apple Music, MTN Music Plus, Deezer, Boom Player and a load of others.
With 'Safari' Victoria Kimani is definitely playing her part in taking African music worldwide
Get 'Safari' album here: http://smarturl.it/VKSafari
Watch Victoria Kimani's new video, 'Giving You' featuring Sarkodie, off the 'Safari' album here: