Covenant Voices Has Won Their 3rd International Music Award At The Gathering Of Africa's Best In United Kingdom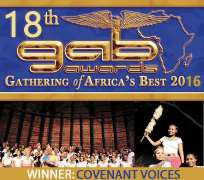 The 18th edition of the Gathering of Africa's Best Awards which was held at the Hilton London Canary Wharf in on Sunday 27 November, 2016 is the most prestigious and highly-coveted Awards event within the Diaspora African community in the United Kingdom and was established by The Trumpet Newspaper in 1999. The GAB Awards rewards excellence among those who are promoting the positive image of Africa and Africans. It is open to Africans and Friends of Africa.
Covenant Voices - a multiple award winning gospel band & group made up of South Africans & a handful of African nationals with an age range of 16 - 39 are mentored by Rev Tim Omotoso and was awarded for their unique contributions to the promotion of the positive image of Africa and Africans through Gospel Music.
The group are based in Durban, South Africa, and their music has Traditional Zulu, Jazz, R&B and Contemporary influences. The choir was founded and named in 2007 by Rev. Tim Omotoso, after he hosted gospel music auditions, a first for the organization in Durban. This became the first initiative of the Youth Empowerment Project (Y.E.P.) of Tim Omotoso Global Outreach. It has to be said that the singers had no previous training or experience when the choir was formed, just raw talent waiting to be polished.
Covenant Voices were nominated in the Best International video category at the 2016 Jump Music Video awards in London and in Best Church Choir category at the 2016 SABC Crown Gospel Awards however, their debut song - Children (Medley) won the best Gospel song at the August 2015 Akademia awards in Los Angeles, California, USA; and the music video directed by (Ray Magagula) also won the Best Christian Contemporary Music Video at the November 2015 Akademia awards, USA. The song was also nominated at the 2015 Gathering of Africa's Best awards in London, the 2015 Utah Music Awards, USA and at the 2015 SABC Crown Gospel awards in South Africa.
Currently (in the Reverbnation Gospel genre charts as at 30 November 2016) they are number 1 in Durban, 2 in South Africa, and 4528 in the world.
The British Prime Minister - Theresa May MP, had this special goodwill message for the Gathering of Africa's Best (GAB) Awards: "I would like to congratulate Trumpet Media on its 18th Annual Gathering of Africa's Best Awards. These awards are an opportunity for us all to recognise the incredible achievements of successful African men and women across sectors including financial services, retail, media, the arts, science and technology and sport. I would like to congratulate the organisers and volunteers for making these awards such a successful event and wish everyone involved all the best."
Social Networks
Twitter: @CovenantVoices_ & @GABAwards
Instagram: @CovenantVoices