2011: Mimiko calls for united front against electoral fraud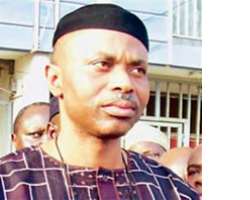 Olusegun Mimiko
Governor Olusegun Mimiko of Ondo State on Wednesday rallied the Conference of Nigerian Political Parties (CNPP) and the Progressive Coalition (PC) to form alliance against any forms of election malpractices ahead of the general elections in the state next year. This is coming just as all progressives in the state resolved to fuse into the ruling Labour Party and form a united progressive platform in the State.
    The Governor, who gave this charge during a luncheon organized for them at the Government House Akure while affirming that Ondo State was blessed with high profile politicians and men of integrity however commended the determination of the CNPP and the PC to curb electoral fraud in the State.
    His words: "We must all come together to form an alliance against electoral fraud in this State. Never again will we allow rigging and snatching of electoral materials at gun point be allowed here. But I am happy that in Ondo State, the CNPP and the PC are resolved that never again will rigging take place in our State."Our people in Ondo State are very enlightened; we are blessed with men and women that are not ready to compromise no matter the situation.  They are people who will never mortgage their conscience for whatever reason".
    The State Chief Executive also appreciated the groups for standing firm at the peak of the struggle for the emancipation of the people of the state, urging them to continue in the struggle for total liberation of the state from oppressors.
    Earlier in his address, the spokesperson for the groups, Chief Olaniran Jogbodo, gave Kudos to the present government in the state for the payment of backlog of pension and gratuities and severance allowances of past political office holders irrespective of political affiliation.
Jogbodo, who said that the progressives in the state have decided to join forces with the Labour Party to chase out the conservatives from governing the state in the future.
    According to him, "all progressives in the state with the leadership of PC in the lead are fusing into Labour Party.  LP will henceforth be the platform for progressives in Ondo State. We want to state here for proper understanding that we are not decamping because LP and PC are already in the same camp of progressives "He said".