Appeal Court finally sacks Joy Emordi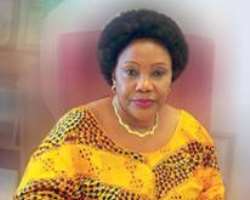 Joy Emordi
Five panel of justices of the Court of Appeal, Enugu, presided over by Justice  Galadima Suleman, has made a consequential order that Hon. Alphonsus Igbeke, of All Nigerian Peoples'Party (ANPP), be sworn in without further delay as senator representing Anambra North Senatorial District. The court upheld its decision of 25 March 2010, which sacked Senator Joy Emordi from the Senate.
Earlier, Justice Suleman dismissed a motion on notice brought by counsel to Joy Emordi, Dr. Valera Azinge (Mrs.), for lack of merit.
He awarded N25,000 cost to the first and second respondents, Hon. Jessie Balonwu.
The counsel to Emordi had sought an order of the court disqualifying the three justices, namely Aminu Sanusi, Ladan Tsamiya and Olu Arinola from sitting, further sitting, adjucating, taking part in any of the processes before the court in relation to Appeal No. CA/E/EPT/04/2009.
The counsel also sought an order that a new panel excluding the honourable justices be reconstituted to determine the motion before the court in Appeal No. CA/E/EPT/04/2009.
She argued that the justices named will likely be biased in the matter, which they had participated earlier in two consecutive judgements.
However, Justice Suleman held that the applicant cannot approbate and reprobate at the same time.
According to him, "the jurisdiction of this hounourable court must be jealously guarded. The court cannot make an order to exclude the three justices.''
The other four justices agreed with his ruling.
On the issue of the interpretation of the judgement by the Supreme Court, the presiding judge dismissed it, saying that no substantive issue on point of the law to be interpreted by the Supreme court was raised by the applicant that should warrant further interpretation of their ruling.
The court held that the whole application was misleading and awarded N25,000 as cost to the first and second respondents accordingly.
Reacing to the judgement, Dr. Azinge said: "it is a well taken decision. The judges took time to arrive at their decision,'' saying that their next decision will be determine when they receive the judgement officially tomorrow.
PM News