Top Stars Gather For Shakomended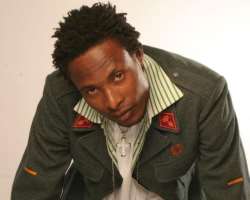 Some of Nigeria's finest entertainers will this Sunday, 16 May, storm De-Blue Roof of the Lagos Television, Ikeja, for a concert in support of Oluwatomilayo Mayowa Fakeye, ailing wife of journalist turned singer, Lanre Fakeye a.k.a. Shakomended.
Tagged Tomi-Alive Concert, the show is put together by Shakomended and friends in the music and entertainment industry to raise the funds required for a kidney transplant for Tomilayo, who has been down with the ailment, to keep her alive.
Some of the music stars who have agreed to perform at the concert include Rub-a-dub star, Ras Kimono; Sunny Neji, Faze, Sammie Okposo, Klever J, Buga, Sound Sultan and Comedian Kofi.
Other artistes also confirmed for the charity concert include Bigiano, Jaywon, Femi, KC Presh, Jahdiel, GT Da Guitarman, Frank De Nero, Alibi, Onus, Femi, Jenifer Eliogu, SLK, Zbyte, Justina, Dr. Prat, Spydaman, General Pype, MC Basket Mouth and Baba Dee, among many others.
Ticket for the concert, which ranges from N5,000 for VIP, N2,000, business class, N1,000, economy class and N500 for students with ID card, will be sold at the venue, while those who may not be able to make the event but want to donate can make such donation to Guarantee Trust Bank on account name, Oluwatomilayo & Lanre Fakeye and number, 226-955097-110.
Tomilayo, a mother of one, has been diagnosed of end-stage chronic kidney disease and requires urgent kidney transplant which will gulp about N6 million to enable her lead a normal, healthy life.
According to the Consultant/Physician and Nephrologist at the Lagos University Teaching Hospital (LUTH), Dr. M.O. Mabayoje, "Mrs. Fakeye was first referred to this hospital in December 2005 for uncontrollable, severe hypertension. Her condition deteriorated and she now suffers end-stage renal disease. She will need to start maintenance dialysis or have a kidney transplant as her treatment."
Shakomended, whose debut album is still enjoying rave reviews, says the concert becomes expedient because of the high cost of the transplant required to save the life of his wife of less than two years. Twenty seven-year old Tomilola is a Guidance and Counselling graduate of the University of Lagos and hails from Ikorodu, Lagos State.
For more information, contact Lanre on 08037447944 and Mike, 08035049599