New Music: Pair With Me By Anthony Adoki | Produced By Victor Sunday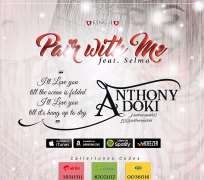 "Inspired by the book of Songs of Solomon, this song is for the continuous celebration of love with your spouse and the family unit as a whole. When you love and celebrate your God-given spouse, faults and shortcomings will diminish.
"The song is aptly titled 'Pair With Me', because your vow should be renewed daily with your spouse through a dance, a song, a tickle, a clean joke and many other ways you choose to adore, cherish and esteem your treasure of great worth.
"God is love and He demonstrates his love for us unreservedly as He daily renews his mercy over our lives. It's His nature to love because He does it faithfully every day.
Everyone that loves is born of God." - Anthony Adoki
The song was produced by Victor Sunday.
Download and enjoy this love piece with your spouse.
Download link: http://bit.ly/PairWithMeByAnthonyAdoki
LYRICS
Pair With Me by Anthony Adoki
Baby pair with me
Olomi dance with me
Omalicha sing with me
I want to tango with you
It takes you to make my world go round
It takes you to keep the fire burning
You and I our destinies are one
I can see you take over my world
Oh baby, sugar, honey suckle
My life have just began to bubble
Because of you
I want to tango with you
Baby pair with me
Olomi dance with me
Omalicha sing with me
I want to tango with you
Oh baby I see forever in your eyes
We can make it
no matter what they shoot
You and I our destinies are one
God is with us to help us all the way
Oh baby, sugar, honey suckle
My life have just began to bubble
Because of you
I want to tango with you
Baby pair with me
Olomi dance with me
Omalicha sing with me
I want to tango with you
Oh baby, sugar, honey suckle
My life have just began to bubble
Because of you
I want to tango with you
Tango with me
Pair with me.
CONNECT WITH ANTHONY ADOKI
Facebook | Instagram: Anthony Adoki
Twitter: @AnthonyAdoki2