Nigerian Youths will Soon be Eating Sand…Charly Blasts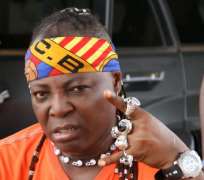 Singer, lawyer and social critique, Charles Oputa better known as Charly Boy, is currently not happy with the situation of the country and the mal-administration currently experienced in some areas of the country.
It will be recalled that some days back, the singer had staged a peaceful protect in Abuja, with some interested Nigerians to complain about the kind of leadership in the country but he seems not to be cool with the way the youths have been silent these days.
Charly Boy enraged by this has warned youths that if they don't get up to speak out now that it is still early then they should be prepared to face hard life in the coming year 2017 as their future has been kidnapped.
According to him, "I swear to you silly, ignorant, foolish and lazy Nigerian youths. If you don't do something quick by showing your frustration and vexation with this our yahoo yahoo leaders, una go chop sand by next year. Nothing will ever get better until you start to fucking standup for your kidnapped future. Na una sabi."