All about my film awards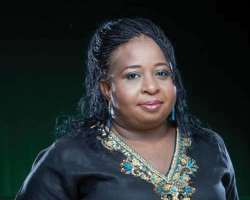 "The most expensive aspect of AMAA, I think, is not the awards ceremony but the process of getting the films in, screening the films. It takes us approximately three months to get to the point where nominations are announced," discloses Peace Anyiam-Osigwe, founder of the Africa Movie Academy Awards. It's a Monday morning and we are in a coffee shop in Ikeja GRA reviewing the awards ceremony held weeks before in Yenagoa, Bayelsa State, amongst other issues.
Sponsorship woes
Unknown to many, the graduate of Law and Political Science from Oxford Brookes University, Oxford, UK, and her team had problems organising the ceremony. Though they started working on the project nine months prior to the event, things almost went awry because some sponsors didn't respond promptly.
"Unfortunately for us, Nigerians tend to want to do things at the last minute, especially government people who probably don't realise how important it is to do things on time. The only sponsor that came on board early enough was UBA, while our host state had challenges," she recalls. A discerning person, she has however learnt from what transpired. "In regards to next year, we've taken certain decisions whereby anyone hosting the award has to take a decision and implement it before the last quarter of the year preceding the award."
There are speculations that the Bayelsa State government might be getting tired of hosting the ceremony, people say the sponsors' night before the show where Bayelsa State Governor, Timipre Sylva, urged corporate Nigeria to sponsor the awards, is proof. But Anyiam-Osigwe disagrees. "No, I think that AMAA has reached a stage where it is right for the Bayelsa State government to ask for sponsors to come on board. The state has the hosting right, they cannot be the sponsors of the event itself. Let's take the World Cup, South Africa has the hosting right but she is not paying for everything. MTN, Coca Cola, Pepsi, everybody else is carrying the bill and that is what it's supposed to be.
The Governor is doing the right thing in trying to get the private sector to sponsor the AMAA. Why I have a lot of respect for UBA is the fact that they saw a need to support a home grown brand; not a lot of corporate bodies in Nigeria believe in supporting home grown brands. That is sad because no matter what I try to do with the AMAA, if it doesn't have corporate support, it will not grow. The recognition of the award internationally is more than the recognition it gets locally and that amazes me."
The joy of AMAA
The thrill of the AMAA for its founder this year "was the joy of the people that won. That was really what touched me, the sincerity of the emotions that came from the people that won. Africa has recognised what we are doing ... You have people who will call you on the day of the AMAA, people like Forest [Whitaker] or Danny [Glover] and encourage you. No matter the stress you are going through, when you get those kinds of people saying to you, you have to continue. Deep down in your heart, you know that you are doing something right."
In spite of this, Anyiam-Osigwe's biggest problem remains continuity. And she intends to tackle this continuing with her sponsorship drive. "Two days after AMAA, I was invited to Ghana by a prospective sponsor. I have been there twice already to have meetings with them and that's what we are going to do. We are going to really go out and look for sponsors."
Is she then saying next year's AMAA might hold in Ghana?
"It can be anywhere but the most important thing is that AMAA has to be where the people recognise its value. When I started the AMAA, I never knew what I was getting into and I never believed it would grow so fast. There is an argument we are having with Africans in the Diaspora, people like Forest [Whitaker], CC Pounder, Tyler Perry, about opening it up to everybody. I told them that's why you have the Africans in Diaspora category and we have short film and feature film. For them, this is the award. If you listened to Glynn Turman, he was like this is not just for you guys. It's for everybody. So, how do you start to control all that? We have an AGM in July and we are going to try and make everybody understand that it's a gradual process.
"Some people say to me this is one of the best ones you have had but I know what the plans were. We have already started working towards next year. I don't know where the AMAA will hold next year, we would know by the end of July."
No conflict
Anyiam-Osigwe who is part of the recently launched Africa International Film Festival (AFRIFF) explains her involvement. "One of the things that I feel I contribute to anything that has to do with festivals in Nigeria is my technical knowledge. I'm tired of seeing festivals going on without having the content that will make a festival what it's supposed to be. So, when I was approached, I basically spoke about the content area of the festival."
She also douses fears of a potential conflict between AFRIFF and AMAA. "I see no conflict. I think the conflict will come if for any reason they move into what we are doing. But if it is segmented - and which I think it is right now and it's strictly a film festival then there isn't any conflict of interest whatsoever."
Nollywood and growth
The woman whose African Film Academy organises trainings for guilds in Nollywood and sponsors young filmmakers to film festivals, reiterates the need for Nollywood to grow. "I think that Nollywood needs to move on, filmmakers have to realise that films can be made...the cameras nowadays are so user friendly. The success of 'Figurine' shows that it's not what you shoot on but the detail and the time you put into pre- production. The success of all the films that won at the AMAA this year, and 'From a Whisper' that won last year, is that attention to detail will always get you over the bridge."
Regarded as an award organiser and not a filmmaker in a section of Nollywood because she has no production yet, Anyiam-Osigwe's soap, 'GRA Women' is set to hit the airwaves this quarter. She is also working on a film she co-wrote "about four women that are friends. It's a feature, a fun film. Something that allows me express my creativity after so many years of not being able to do something."
Is she not worried that expectations will be high for the film given her background as an award organiser?
"And I expect it to be high," she replies. "The unfortunate thing is that it can never win an AMAA, it can never go in for competition so I will just be expressing myself. But I think maybe that is what I want to do because sometimes I hear criticisms that I don't make films, I'm a filmmaker. Maybe I should just do a film to express myself and make myself happy.