ADEBAYOR TO PARTNER FASHOLA ON ACADEMY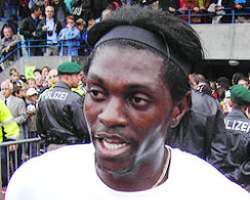 Emmanuel Adebayor
Togolese striker, Emmanuel Adebayor, is set to join forces with Lagos State Governor, Babtunde Fashola, towards the development of the BRF Football Academy.
Administrator of the academy, Kayode Oderinde, said that the partnership arrangement has been put in place following a meeting of the BRF Academy patrons and Adebayor recently in London.
According to the leader of the BRF delegation, Yomi Pearce, Adebayor has agreed to support the academy in sourcing affiliations with clubs in England and other parts of Europe to which the academy would send their players for training periodically. Adebayor would also visit Lagos to meet with the players of BRF and other academies to motivate and inspire them towards building successful careers in football.
'We opened discussions with Adebayor in Ghana and he invited us to England for further talks and we have sealed the arrangement. We would have started the programme now but it will now take place after the World Cup because with the end of the English Premier League, he would be holidaying in Miami from where he would come to the World Cup to do commentaries for a media organisation,' Pearce further informed.