BHM Celebrates 10th Anniversary With No Work Day and 12-hour Party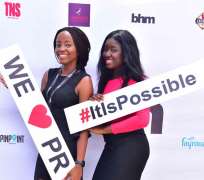 Lagos|Nigeria: Monday, 7th November 2016, Nigeria's leading media and public relations agency BHM Group marks its tenth year in business providing cutting-edge Public Relations services to organisations and individual brands in over seven countries worldwide.
In its first decade, the agency has grown from operating in a corner in a nondescript room in Ogun State –with three on-off clients, and annual revenue of below N500, 000 – to crossing the $1mn dollar mark since its fifth year of operation. With offices in Lagos and London, the agency has morphed into a chain of businesses now strategically dominating Nigeria's PR sector by achieving a series of industry firsts: creating a unique PR mix to crush the prior divide between entertainment and corporates in Nigeria; building the country's first PR mobile application , launching the first PR Report in Nigeria in 2015, research report on Olajumoke Orisaguna tagged Concept of Virality and as part of efforts to bridge the gap between the theory and practice of public relations in Nigeria, BHM has published a book to help practitioners.
Titled BHM Guide to PR, the 138 paged interactive digital book contains tips, tools and tricks for everyone interested in Smart PR. There's also a rich database of relevant contacts in media, PR, and academic institutions.
"It's a collection of most of the pieces we've worked on, in response to questions we get asked by young people interested in working in PR, clients who are keen to see better results, and agency staff who are curious about the future of PR", says BHM founder Ayeni Adekunle.
To commemorate its milestone anniversary, the agency hosted a wide array of the distinguished brands and individuals who constitute its clientele and audiences at an exclusive event on 7 November 2016, at its Head Quarters where it launched the book BHM's Guide To Public Relations.
"The occasion of this anniversary is a signal for us to tangibly advance our goal to remain local, whilst consolidating global relevancy. This year, we signed up with Deloitte, ranked among the world's top four consulting firms, to handle our audit and tax activities. We are currently the only agency in our market with this caliber of professional support. It is a big deal for us, because we truly want to build Nigeria's first global agency, operating at, and exceeding global standards," Ayeni added.