Bu Fest 2016: Come Experience This First Of It's Kind Campus Festival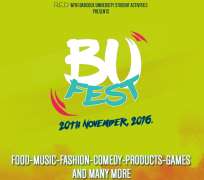 Its November and 2016 is slowly coming to and end! We're sure you've been to some pretty dope events yeah? Well here is something you don't want to miss. Happening at one of the most vibrant campus spaces in Nigeria with some of the most interesting people you will ever meet, it's the first of it's kind campus festival "BU Fest".
RED and the Babcock University Students Association have put together this initiative to welcome the world to the ever glowing holistic social life that Babcock University students enjoy on campus and also to share the Babcock culture.
On the 20th of November 2016, the BU Fest will hold at the Babcock University stadium with an expected capacity of 5000 students in attendance with expected guests. There will be loads of attractions from food, fashion, comedy, games and a music performance from a surprise guest.
Don't miss this first of its kind event, for more enquiries and for stall bookings please call 07060976006, 08186807430 and email [email protected] .