MADAGASCAR'S ANDRY RAJOELINA 'WILL NOT RUN IN POLLS'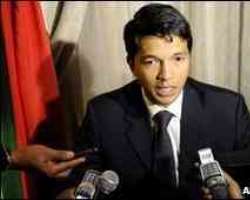 Mr Rajoelina took power during a coup last year
Madagascar's leader Andry Rajoelina has said he will not stand in elections to be held later this year, in an attempt to end the country's political crisis.
Mr Rajoelina, 35, who seized power in March 2009, has been facing pressure to find a solution to the deadlock.
He also announced a calendar for elections, with parliamentary and presidential polls to be held in September and November respectively.
Donors cut off aid after he abandoned a power-sharing deal made in November.
Sanctions imposed by the African Union and the slowing of foreign investment have worsened the country's problems.
"I declare in the name of the superior interest of the nation and of the people, my decision not to stand as candidate in the presidential elections for a fourth republic," he said in a televised statement on Wednesday.
He also announced a referendum on constitutional reform to be held in August.
As well as facing international criticism, he has recently faced pressure from the military – former allies who had backed him when he toppled former leader Marc Ravalomanana last year.
Mr Rajoelina had been stalling on forging a new agreement with his political rivals, but last week pledged to unveil a road-map for the country during talks in South Africa.
France, the country's former colonial ruler, welcomed Mr Rajoelina's move, saying it "demonstrated a sense of responsibility" and was a step forward for the Indian Ocean nation.
The decision would "place Madagascar on the path to returning to constitutional order and therefore the support of the international community," said Alain Joyandet, France's secretary of state for co-operation.