Annette Bee & Yemi Ogundipe Won At The 2016 Akademia Awards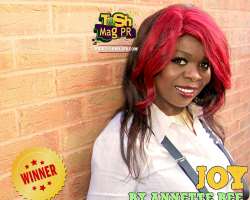 Annette Bee won the best Reggae song & Yemi Ogundipe the best gospel music video at the October 2016 Akademia Awards in Hollywood, Los Angeles, USA.
Annette who recently dropped her latest single dubbed 'JOY' (mixed by Ervin Woolley 'Woolligan') won the best Reggae song at the October 2016 Akademia awards. Ken Wilson (veteran record executive formerly of Arista Records, Columbia and MCA to J Records and Warner Brothers) who has shaped the careers of legendary artists such as Beyonce, Alicia Keys, Whitney Houston, Mariah Carey and many more had this to say about Annette Bee's 'JOY'. 'This fashionably avant-garde reggae jam from Annette Bee layers vigorous cadence changes and cool melodic elements into an expertly produced message of love and peace.'
She recorded her debut single at the tender age of 15 with Philip Gadd New Talent Records, and had hit singles released with various top UK based reggae recording labels such as UK Bubblers (Greensleeves), Arwia and Charms Records (Jet Starr). Annette Bee was voted UK's Best Female Reggae Gospel Singer for 2014 at the Prosperity Music Awards, nominated for a BEFTTA Award for Best Gospel Act in 2014 and picked up 3 gongs at the Gospel Xplosion Music Media Awards UK in 2016, when she won the Best Female Reggae Gospel Artist Of The Year, Best TV Show [Annette Bee's Gospel Xplosion Segment on The Lifestyle Show on BEN TV Sky 182] and the Best Female Artist Of The Year.
Yemi Ogundipe - a dynamic gospel artiste who started her music career at a very tender age of 9 on the other hand won her second ever music gong after recently winning the best Praise and Worship song at the 2016 PGMA London awards. Her first debut music video, 'NO ONE BUT YOU' (directed by Uvi Orogun) won the best gospel music video at the same Hollywood awards as Annette Bee. The panel judges had this comment on her award winning music video: 'Imaginatively produced, this music video from Yemi Ogundipe puts her smooth vocal stylings and exotic rhythms on full display - and few will fail to be entertained.'
Yemi has simply been a revelation in 2016 after her song, 'NO ONE BUT YOU' (produced by Wole Oni) racked up over 110,000 soundcloud downloads and was voted #7 at the September 2016 UK Christian Charts.
Social Networks
Twitter: @AnnetteBee_ & @YemiCC4Christ
IG: @AnnetteBee_ & @YemiOgundipe
Facebook: Annette Bee & Olayemi Ogundipe