DELAYED COURT PROCESS STALLS NNAMANI GROUP'S SUIT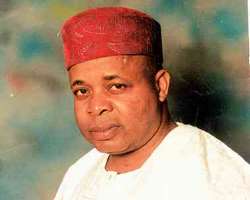 Former Senate president, Chief Ken Nnamani
Hearing in the suit by the former Senate President, Chief Ken Nnamani, and members of the Peoples Democratic Party Reform Group against the party was on Monday stalled at an Abuja High Court due to late service of a motion.
The PDP's lawyer, Mr. Paul Erokoro (SAN), argued that the proceedings could not continue because the plaintiffs had not kept faith with service process, the News Agency of Nigeria reports.
'We were just served in the court room this morning my lord. So, it is impracticable for us to push on blindly.
'Anyway, the respondent has always acted within the confines of the laws guiding it and also with that of the courts.
'I therefore, solicit the discretion of the court to summarily adjourn the matter to enable us to go through the motion.'
The plaintiffs' lawyer, Chief Kanu Agabi (SAN), countered the submission of Erokoro, saying that the respondent was duly served before now.
He said, 'We have proof to show that they were served, we were just magnanimous to have given them an extra copy of the motion this morning in the court hall.'
The PDP had suspended Nnamani and 18 others for alleged anti-party activities in April.
The affected members, however, obtained an ex parte order to quash their suspension.
The court also granted their prayer for an order to prevent the party from holding its National Executive Committee meeting, which was to be later vacated by the same court.
A former Speaker of the House of Representatives, Alhaji Aminu Masari; erstwhile president of the Senate, Chief Adolphus Wabara; and former governor of Rivers State Governor Peter Odili are some of the litigants.
Justice Abubakar Talba consequently adjourned the matter until May 26 after listening to both arguments.