N104M FRAUD: COURT GRANTS BAIL TO OGBULAFOR, OTHERS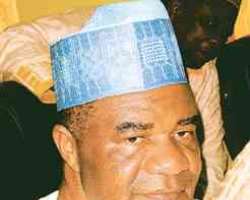 PDP National Chairman, Vincent Ogbulafor
An Abuja High Court on Monday, granted bail to the National Chairman of the Peoples Democratic Party, Chief Vincent Ogbulafor, and three others.
Justice Ishaq Bello also granted bail to Emeka Ebilah, Henry Ikoh and Jude Nwoko.
The Independent Corrupt Practices and Other Related Offences Commission had arraigned the accused persons on a 16-court charge of alleged N104m fraud.
The Principal Legal Officer of the ICPC, Mr. Paul Bassi, had on behalf of the Attorney-General of the Federation, applied for leave to prefer a criminal charge under Section 185 (B) of the Criminal Procedure Code against the accused persons for violating the ICPC Act 2000.
When the charge was read to the accused, they pleaded 'not guilty.'
Justice Bello consequently granted each of the accused bail in the sum of N5m with two sureties.
The prosecution had alleged that Ogbulafor and the other accused embezzled the money when he was the minister of Special Duties in 2001.
But Justice Bello struck out the name of Emmanuel Bosah, who earlier appeared on the charge sheet as the fifth accused because he was deceased.
The judge struck out the name of the fifth accused following an application by lawyer to the ICPC, Mr Adegboyega Awomolo (SAN).
Ogbulafor's lawyer, Mr. Joe Gadzama (SAN), had urged the court to grant his client bail on self-recognition, assuring the court that he would not jump bail.
Gadzama had informed the court that Ogbulafor had been granted bail by the ICPC and did not breach the bail terms.
Mr. Awah Kalu (SAN), Chris Uche (SAN) and C.O. Achibe, who appeared for the other three accused, adopted Gadzama's submissions.
But the ICPC did not oppose the bail applications and urged the court to impose conditions that would compel the accused to attend their trial.
The judge, who ordered an accelerated hearing of the matter, later adjourned the case till June 21.