Why Munachi Abii's Makeup Look Will Leave You Totally Inspired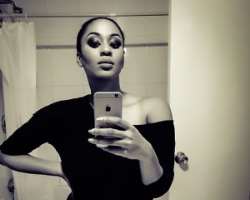 Does this really surprise anyone?
Let's just throw one thing out there: Munachi Abii's pretty much is always wearing a makeup look that every lady aspiring to be a beauty Queen want on their face.
Although, we can't tell you how many times aspiring beauty queens have tried her look with the hope that, they'll achieve her glow.
We've one word for you aspiring Beauty Queens. NEVER GIVE UP

So, If you want to copy her latest look, a glowy, fresh, stunning creation by makeup artist Foy Anita, just reach out to the BEST beauty expert out there. We sure they'll hook you up.