Revealed: All The Things We Know About What The First Lady Said On BBC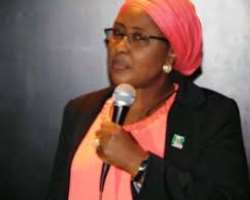 We are all still in shock with the bold statements Mrs Aisha Buhari, the President's wife made during an interview with BBC.
The interview is so controversial that the Presidency reportedly tried to stop it from being aired.
Below are five shocking things Mrs Aisha Buhari told the BBC:
1. "I have decided as his wife, that if things continue like this up to 2019, I will not go out and campaign again and ask any woman to vote like I did before. I will never do it again."
2. "The president does not know 45 out of 50, for example, of the people he appointed and I don't know them either, despite being his wife of 27 years."
3. "Some people are sitting down in their homes folding their arms only for them to be called to come and head an agency or a ministerial position."
4. "You will know them [the people who hijacked Buhari's government] if you watch television."
5. On whether the president was in charge, she said: "That is left for the people to decide."
If we recall earlier that Senate President, Bukola Saraki, had, in June, warned that Buhari's government had been hijacked by a cabal.
The Presidency denied Saraki's statement but is yet to respond to Mrs Buhari's comments.
Nigerians are watching!
INFORMATION NIGERIA FANS, whats your take on these revelations?