AWO'S LEGACIES REVERBERATE IN IBADAN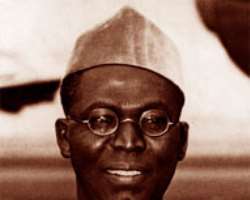 Obafemi Awolowo
Echoes of the legacies of the late sage, Chief Obafemi Awolowo, reverberated in Ibadan, Oyo State, on Friday during the public presentation of three books written by a journalist, Chief Olufemi Ogunsanwo.
The books are Awo-Unfinished Greatness, Gowon -The Supreme Commander and Ogunsanwo-Baptism of Fire.
The first book is a story of the life and times of Awolowo written from the perspective of an author, who had a close contact with the subject.
The event, which held at the Premier Hotel, Ibadan, saw participants showering encomiums on the politician, who died on May 9, 1987, 23 years ago.
The reviewer of the book, Mr. Felix Adenaike, said that more than 50 years after Awolowo departed Ibadan to seek an election as prime minister in Lagos, his all-round legacy remained the reference point in Edo, Ekiti, Delta, Lagos, Ogun, Ondo, Osun and Oyo states, which constituted the Western Region then.
He said, 'The Awo legacy in education, human capital development, health, infrastructure, industry, rural development and integration among others, today evokes a deep feeling of nostalgia among Nigerians within and outside the confines of the region.'
'And watching the successive governments in these parts grope, it would seem Awo left the region with all his project files! Awo was simply the man to beat because he was the 'man with a plan' and the envy of his contemporaries.'
The Guest Speaker, Dr. Richard Joseph, described Awolowo as a great man, who propelled Nigeria to a great height.
Joseph, a John Evans Professor of History and Politics, Northwestern University, Illinois, United States, said the late sage was one of the heroes of the 20th century.
He said in his lifetime, the late sage was a resolute champion of welfarism, whose politics was not just about power.
While reviewing Ogunsanwo- Baptism of Fire, which is the biography of the author, an Ibadan traditional chief, Chief Lekan Alabi, observed that politics in Nigeria could be very hot for somebody who did not want to compromise his integrity.
Alabi regretted that some went to the extent of swearing to an oath of allegiance to godfathers in order to succeed in politics.