Funke Akindele doesnt settle for less!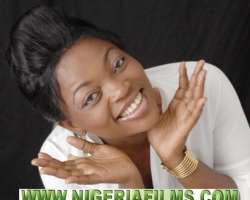 Tale bearers from the yoruba section of nollywood are seriously wagging tongues and this time its on multi-talented actress/producer/script writer, Funke Akindele. From what we gathered, Funke has since become the highest paid yoruba actress since the success of her hit movie, Jenifa. The least she pockets home per movie is 250,000 naira depending on who is producing.
She was recently contracted by Babs Omidina aka Baba Suwe for the concluding part of his comedy movie, "Baba Jayejaye" which was a huge sucess and he met the shock of his life when the actress demanded for 300,000 naira, no more, no less. He told her point blank that he couldnt pay such and so the actress moved on. Baba suwe already had plans of replacing her with Toyin Aimakhu but the marketer of the movie, Abdul Rasaq Abdullahi, CEO of Coperate Pictures insisted on Funke Akindele as he believed she helped propel the huge sales of the flick.
So pronto, Coperate Pictures pay Funke "the diva", 300,000 naira which she demanded and she wrapped shoot even though it didnt go down well with Baba Suwe. We hear alot of yoruba producers are seriously compaining on Funke's attitude towards not accepting a role below her price target. They see her as as ingrate who has forgotten those who helped her climb to the top.
PS: But seriously, 300k? And everyone thinks that an insane demand? Funke ride on jare, a work of art is timeless and priceless.