Colleagues tag rapper, Kel a pathetic snub!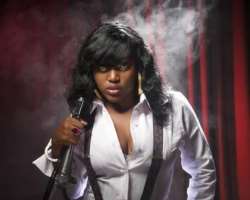 My ears are already filled with whisperings and counter accusations pointing to self acclaimed poster child of rap, Kelechi Ohia popularly known as Kel.
The major problem is on Kel's "attitude" problem as they put it. Firstly, going by their claims, Kel doesnt see any reason to interact with her fellow colleagues once she steps into any event or building, she either stays on her own, fiddles on her black berry or psp game and whenever she chooses to interact, it always has to be either of her hommies, Banky W, M.I or Eldee the don.
An old colleague of hers in the industry was seen complaining bitterly to someone of how painful her attitude is and many have attributed it to the fact that she feels she owes her rise and fame to nobody. Kelechi ohia came into lime-light via her popularly song "wa wa alright" and her manager, osagie osarenkhoe has been a strong back-bone and push for the brand known as Kel.
Her colleague went on to say that Osagie works relentlessly in making sure Kel grows from strength to strength but her attitude is appauling, infact it is the most popular thing about her than her music. After sampling other opinions, it appeared there is no smoke without fire. They even went further to say that Kel herself can never deny it as she knows it is the truth.
Also whispered to me was the wild spread rumor of her being pregnant a while back, we gathered they were all gimmicks made by her and her crew to help increase sales of her debut album "The Investment".
So Kel, over to you…guilty or not guillty?
Here is a clip of Kel's "Too fine" video. For those who might be wondering, who she is…