AlexReports Listed Among Judges Of Face Of Nigeria World Pageant In Lagos.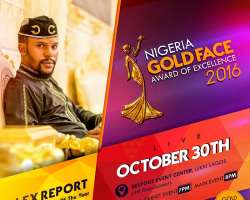 Bashing from the euphoria of the award he collected at the just concluded Nigeria Customer service Week and awards, Abuja popular social media reporter Alex Nwankwo has been listed as ones of the guest judges at the 2016 Face Of Nigeria World Pageant and Awards. Though, he was recommended for this after putting up well researched 36 reason pageants and beauty queen are less regarded in Nigeria and beyond.
The Anambra state media practitioner with Masters in Media and Communication art in view from University of Abuja, a scholarship from FCT Administration on Security, Dr. Alhaji Ali Kwara is also nominated for Nigeria Gold Face Award of Excellence as Enterprenuer Publicist of the year on the 30th of October 2016 in Lagos.
Alexreports has been a consistent pageant and entertainment reporter that has bagged couple of awards in the recent past, and also the organiser of Most Beautiful Model In Nigeria contest.