My husband feels bad watching me act romantic roles –Nkem Ikeh, Nollywood actress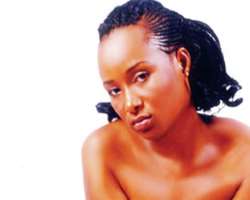 Fast rising movie actress, Nkem Ikeh speaks with ADA ONYEMA about her career, love life and sundry issues.
Early days.
I have been acting right from my school days. How I got into acting? I accompanied a friend to an audition and I was picked by Andy Amenechi. Ever since, I have been hopping from one movie to another. For my first movie role, I got N20,000. Before then, I didn't expect to be paid more than N1,000 and I thought acting in the movies was not profitable. When I got there and I got to know that I was going to be paid N20,000, I was ecstatic because it was my first time.
Background
I graduated from the University of Lagos with a bachelor's degree in English. I'm from a family of five and happen to be the first child with two brothers and two sisters. I lost my mum in 2006. I come from a Christian home. My father is very strict. As far as he is concerned, acting or modelling is not what any of his children should do. Once, when I was playing basketball for my secondary school, he told me to choose between being his daughter and basketball. I had to quit playing basketball. Although I love film acting, I have not gone deeper into it because my people would not approve.
Career
I think because I am grown up, my father has come to accept my acting career. But he is always asking if that is what I really want to do. He wants us to be happy and he tries his best to be both mum and dad to us. I guess he does not want us to feel the absence of our mum. My parents objected to acting as a career because they lacked the right information. They were not really enlightened about entertainment. They don't see it as a profession. For me, there is no way I can stop my kids from going into any profession of their choice. It also depends on how one grew up. I grew up respecting my parents and whatever they say counts. Now I love acting, and it is that love that keeps pushing me and it sure would make me to stand strong.
Scandal
It is not true that I fight over roles with other actresses. I do pray for my jobs to come. It happened only once, but it was not as if I snatched the role from her or that we fought over it. The fact is that the producer thought I fit into that role better than anyone else. They were looking for somebody who could act the parts of a house girl and city girl. They called me for it. I didn't scramble or fight for it. Normally, you would not feel too good; but they gave her something else. I had to explain to her and today, we are best of friends.
About Nollywood
You cannot compare Nollywood to Hollywood. It is not possible. Nollywood is just like a baby to Hollywood, and by God's grace we will get there. People say actresses sleep with producers to get roles. I don't know about that. If you are good you are good. You don't have to sleep with any director or producer to get a lead role. I think the problem that upcoming artistes face is that they want to make it and be Genevieve or Stephaine overnight. They forget that those people have paid their dues. You have to count one befor you count two. No producer has told me to sleep with him before I can get a role. I also do hear about sexual harrassment, but I have not experienced it. Everything depends on you. If you are desparate to get anything, you must be ready to do anything to get it. Just like what is obtainable in other sectors, if a guy likes you, he can ask you out. It is the same thing in Nollywood. A producer can ask you out, you have an option to say yes or no. I don't see any sexual harrassment there.
Love life
Well I have somebody that I love and that person loves me very much, and his name is Jesus. About my boyfriend, you don't expect me to discuss that here. All the same, he is caring and always there to pamper me.
On walking down the isle with him, it is only God that can decide that. The question of loving him enough or not should not arise yet because it takes more than love to do that. You need committment and the kind of job I do is something that you really have to think about before you leap. But he is supportive and he loves what I'm doing. As a man, he feels bad watching me act romantic roles in the movies. I guess he understands that it is my job. Sometimes I tell him what to expect in the movie, so that it would not come as a surprise to him. I make him to undestand that I love what I'm doing and he loves it because he wants me to be happy. So I don't think he would ask me to quit acting. I am not searching because a man is upposed to search for a woman.
Challenges
Acting is very challenging and the embarrassment that comes along with it is challenging too. One could easily be lynched. For instance, on the set of Disclosure, I slapped my husband and some boys almost attacked me. But for the timely intervention of the crew, it would have been a different story.
NGO
Seven of us are running an NGO. It is our way of giving back to the society.