Mixed Feelings Over Emeka Ike's Reaction After Muma Gee's Eviction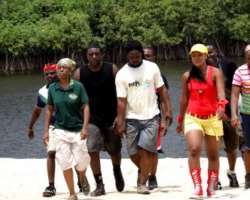 Two contestants at the on-going Gulder Ultimate Search: Celebrity Showdown, Gift Nyame a.k.a. Muma Gee and Chioma Chukwuka-Akpotha, have been evicted, but the reaction of star actor, Emeka Ike following their dismissal triggered mixed feelings from viewers.
Emeka Ike surprised a couple of his fans when he wept after he heard that Muma Gee had been evicted.
The action has triggered mixed feelings from viewers. While some criticised the actor for crying openly over the eviction of Muma Gee, others said he was only expressing his feelings.
The closeness between Emeka and Muma Gee before her eviction had generated controversy in the Ultimate Search camp to the extent that both of them were alleged to have been naughty in the camp.
Although both of them have denied this allegation, those who saw Emeka weep like a baby, following Muma Gee's eviction, have suggested that the allegation may not be far from the truth ."I was really surprised that he could weep for Muma Gee like that. Anyway, I see his action in two ways; it is either a scripted order from the organisers or Emeka is truly in love with the singer as alleged.
"He should have controlled himself because his grown up kids and wife will be watching him at home crying over another woman. It is unfortunate," a fan told us.
Reacting to the issue, another fan who identified himself as Dotun said there is nothing wrong if Emeka Ike expresses his feelings by weeping for Muma Gee.
"After all, we have seen him weep in movies. I think it is more of a personal thing," he said.