GERMAN COALITION 'SUFFERS KEY REGIONAL POLL LOSS'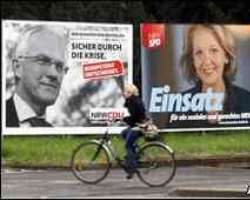 German Chancellor Angela Merkel's party and its coalition allies have been defeated in regional elections in North Rhine-Westphalia, projections suggest.
If confirmed, this would see Mrs Merkel's national coalition lose its slim majority in the upper house of parliament, the Bundesrat.
The campaign has been overshadowed by the government's decision to contribute to a huge rescue package for Greece.
Meanwhile many cities in NRW are on the brink of bankruptcy.
Analysis: Merkel faces fallout
North Rhine-Westphalia (NRW), Germany's most populous state and home to 18 million people, is in the country's industrial heartland and regarded as a weathervane for national politics.
Ms Merkel had campaigned in the state until the last minute, but the exit polls appear to confirm earlier polls that suggested the ruling coalition was trailing the combined vote of opponents including the Social Democrats, Greens and former communist Left Party.
ANALYSIS
By Steve Rosenberg, BBC News, Berlin
It's only one regional election, but it matters because defeat in North Rhine Westphalia deprives Chancellor Angela Merkel of a majority in the upper house of the German parliament. And without that, she'll find it much harder to push through the national legislation she wants.
The multi-billion euro bailout of Greece may be one reason that voters have turned against her. The rescue package is extremely unpopular with the German public.
But it's not just Greece. Ever since they took power nationally, Chancellor Merkel's coalition of Christian Democrats and Free Democrats haven't stopped squabbling – over everything from body scanners at airports to budget deficits. And the more they've bickered, the more unpopular they've become.
The leader who's been nicknamed "Iron Angie" is suddenly looking weaker.
A result-based projection by ZDF television put Mrs Merkel's Christian Democrats (CDU) on 34.3% and their Free Democrat (FDP) allies on 6.6%, while the Social Democrats (SPD), Germany's main opposition party, polled 34.5% of the vote. Earlier exit polls put the Greens on about 12.5% and the Left Party on 6%.
The coalition in NRW between the CDU and the pro-business FDP mirrored the one at the federal level.
A new coalition in NRW would jeopardise long-promised tax cuts and health system reforms at national level, as Bundesrat members are directly appointed by the state governments.
With the economic crisis dominating the campaign, opponents accused Mrs Merkel of attempting to delay a decision on the hugely unpopular rescue package for Greece until after the poll.
Local councils in NRW are sinking into debt, with leading to rising kindergarten fees and the threatened closure of libraries, swimming-pools and theatres.