Kim Kardashian's butt assaulted on streets of Paris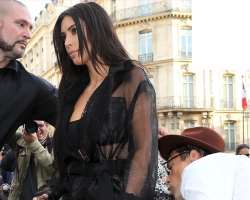 This is so scary! Kim Kardashian's butt was assaulted by the same guy who attacked Gigi Hadid last week, though fortunately he didn't get very far before her security took him out. WATCH the crazy video right here!
s we can see in the video, Sediuk manages to dodge security and plant a kiss on Kim's left butt cheek. Her guards then pounce on him and take him down to the ground. So terrifying! Who knows what else he would have tried, had her team not jumped in?!
It's unknown as to whether or not he was arrested after the incident, and the camera stops rolling before we can tell if he runs away, like he did from Gigi on Sept. 22. That time, the supermodel freaked out — understandably — and kicked and punched him back when he picked her up. After he fled the scene, she screamed for him to be caught, and wrote an open letter afterwards, urging women to defend themselves.
Here's the craziest part — Sediuk has actually attacked Kim before! He lunged at her two years ago, also at Paris Fashion Week, tackling the Keeping Up with the Kardashians star and almost knocking her to the ground. Security got involved immediately, holding him to the ground as Kim was escorted into the building along with Kris Jenner. Insanity!
The Ukranian prankster has also attempted to, or successfully, attacked Leo DiCaprio, Brad Pitt, and Will Smith. How is this guy not locked up yet?