Fans Blasts Orezi For Going Naked In New Promo Picture [SEE PHOTO]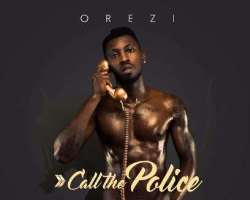 Fans of Nigerian dancehall artiste, Orezi has reacted to his recent art cover of his latest song, 'Call the Police'.
Looking well oiled, Orezi is seen naked with a rotary dial telephone covering his manly bits while trying to dial a phone number.
Orezi has however been criticized by fans for stooping so low by posing naked to sell his song.
"Alhaji orezi. See someone's mentor, what works for the White's may not work for us. This is Africa," one fan wrote.
"Song way b no go even Sweet self, Guy quite music abeg," another angrily wrote.
Read fans comments below: