David Beckham goes shirtless for the #22kill push-up challenge (Photos)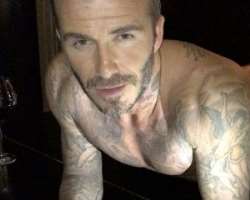 The former England captain goes shirtless in new photos he shared online.
In the images shared via Instagram, the former Manchester United and Real Madrid player appeared shirtless, dressed in only his boxers for charity as he does the #22kill push-up challenge that has swept the Internet.
'It's for a great cause, a serious cause. It's for all the service men that take their lives every single day.' David Beckham, 41, said after accepting the #22kill push-up challenge from film director and friend, Guy Ritchie.
The push-up challenge was created to bring awareness to issues related to veterans, namely suicide.
According to 22Kill.com, 22 veterans commit suicide daily, and the hopes of the organization is to raise money to research the tragedy while also educating the public.
'#22KILL directly supports veteran empowerment programs that help veterans maximize their talents and understand their value outside of the military,' reads the site.