ANWAR'S SODOMY TRIAL RESUMES IN MALAYSIA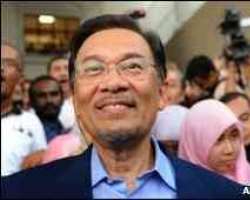 The trial of the Malaysian opposition leader, Anwar Ibrahim, on charges of sodomy, has resumed.
Last week, Mr Anwar failed in his final attempt to have the charge dropped – he says it is politically motivated.
His legal team is cross-examining his accuser, an aide who says that Mr Anwar had illegal sex with him in 2008.
The opposition made big gains in elections that year and Mr Anwar has accused the governing Barisan Nasional coalition of fabricating the charge.
The BBC's Jennifer Pak, at the courtroom, said the defence had asked again for a list of the witnesses who would be called to support the government case.
But the judge has again refused to allow the list to be shared, saying this was in line with an earlier federal court decision.
Difficult
It is one of the issues that has led Mr Anwar's legal team to accuse the judge of bias.
Mr Anwar's lawyer, Sankara Nair, said that the prosecution's refusal to release information such as its witness list, video footage and key documents on forensic and DNA evidence would make it very hard for his client to clear his name. ANWAR: CONTROVERSIAL FIGURE
1993 to 1998 – Deputy Prime Minister, under Prime Minister Mahathir bin Mohamad
1999 – Jailed for abuse of power, sparking huge street protests
2000 – Found guilty of sodomy with his wife's driver
2004 – Supreme Court overturns the sodomy conviction, freeing him from jail. He quickly emerges as the de facto opposition leader
March 2008 – ruling coalition narrowly wins general election, but with its worst results in 50 years. The opposition makes unprecedented gains
Aug 2008 – Anwar charged with sodomy for a second time, but despite this is soon voted in as an MP
Feb 2009 – Second trial for sodomy starts
Profile: Anwar Ibrahim
He told reporters he intends to "grill" 24-year-old Mohamad Saiful Bukhari Azlan who has given graphic testimony alleging he had sex with Mr Anwar in June 2008.
Mr Anwar, a former deputy prime minister, was sacked and imprisoned in 1998 on separate sex and corruption counts. He was freed in 2004.
Anwar Ibrahim's defence had earlier argued Judge Mohamad Zabidin Diah was too biased to give their client a fair trial but the judge has refused to stand down.
"I don't see any reason to recuse myself from this case. If I do this I will be running away from my duty as a judge," he said of the demand to step back from the case.
Mr Anwar says he is only on trial for political reasons, and in an interview with BBC News before the trial, he referred to the allegations as a "nasty conspiracy".
Homosexual acts are illegal in Malaysia and Mr Anwar faces up to 20 years in prison if convicted.
The charismatic opposition leader – who was deputy prime minister until his sudden sacking in 1998 – served six years after an earlier conviction for sodomy, which was subsequently overturned on appeal.
After his release, he led the opposition to election gains in 2008.