Jullie Jay-Kanz Sidelines Kaakie, Mzvee & Ak Songstress As Dancehall Queens: Chooses Cynthia Morgan & Spice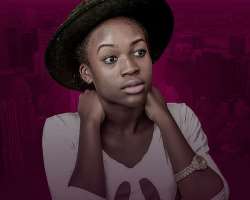 Female blogger Jullie Jay-Kanz who recently broke the news that she is not the publicist for dancehall artiste Ak Songstress has sidelined Kaakie, Mzvee and AK Songstress as dancehall queens.
Talking to Ansah Sasraku the host of Morning jet radio show on Biyac 93.1 FM this morning, the female blogger explained that the above mentioned female dancehall artsites are not the only faces in the dancehall fraternity. She made mention of names like Seeta Kamani, Stargyal Denora, Sherrry Gaza and more which she claimed are also good female dancehall acts based in Ghana.
In a response to a question asked by the host concerning who the real dancehall queen is among Kaakie, AK Songstress and Mzvee, Jullie responded by saying she cannot choose a queen among the three for now because they are all performing well but continued to say that female artistes like Nigeria's Cynthia Morgan and Jamaica's Spice deserved to be crowned as dancehall queens due to their exceptional dancehall attitudes and lyrical prowess.
Jullie who was called to be interviewed on the show concerning she and dancehall artiste Kaakie's saga which went viral a few days ago after Kaakie's interview with Delay explained thoroughly that she wasn't the cause of AK Songstress – Kaakie beef.
The female blogger however chose Shattawale as dancehall King over Stonebwoy when asked to rate the two.