Why police arrested BasketMouth's security guard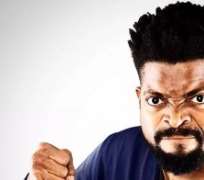 Following the widely reported case of robbery at the home of Bright Okpocha aka BasketMouth, the comedian has finally come out to talk about the incident and why his security guard was arrested.
The arrest, according to the New Telegraph took place yesterday.
According to Police investigations, BasketMouth was robbed barely one hour after he returned from the club. It was gathered that his security guard bolted after he realised that bandits had invaded their home.
A police source said: "He came home about 1:30a.m. and by 2:15a.m., the robbers came. It appeared his home has a central door. He left the door open for his security guard to carry out one or two duties.
It was through that door they came into his home." The source added that the security guard was arrested because he fled and did not alert the residents or the police.
Speaking further, the police source said Basketmouth has asked them to release the security guard because he and his wife trust the man.
Further investigation reveals that police reached Basketmouth's home about five minutes after they were alerted.
"But the robbers had long gone before we were alerted. When asked why Basketmouth did not call police earlier, he said he did not want a shootout."
He added that the robbery was reported at the nearest police station. The Lagos State Police Public Relations Officer (PPRO), Dolapo Badmus, confirmed the incident. She added: "The Commissioner of Police has directed that the case be transferred for further investigations."
Meanwhile, the Glo ambassador has now confirmed the robbery on Social Media.
He wrote:
"Yes I was robbed, yes they made away with a lot of valuables…….
"The great thing is that they didn't steal my sense of humour. Myself, my wife and kids were not harmed, so we thank God.
"Big thanks to everyone that reached out, may God bless you abundantly."