4 Photos From Kanye's Yeezy Season Four At NYFW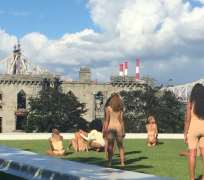 Kanye West debuted his Yeezy season four line on day 1 of the New York Fashion Week. It was a carefully balanced mix of confusion and typical Kanye; nothing made any sense!  It is Yeezy season four, even as Kenya west débuted  his designs oat new York fashion week.
Models stood in the scorching sun dressed in unclad suits and camouflage jackets. There was some drama as some models fainted as a result of the heat but hey..its Kanye!