15 Adorable Photos Of Adanna Ohakim and Her Family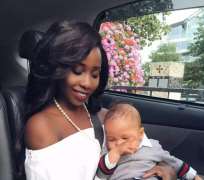 Adanna, one of the beautiful daughters of former Imo state Governor, Ikedi Ohakim is obviously taking motherhood to her stride!
The proud mum, who's blessed with a son, Kian, is always so happy to share some cute and adorable photos of her now 7-month-old munchkin.
It's amazing how we see a baby today and the next time he's fast growing into a big boy.
Thanks to photo sharing site, Instagram, the YouTube personality, her husbandDavid Steinacker and their baby are always too cute look at.
Here are 15 happy moments we can't get over with…
1.February 15, Kian Nnamdi Steinacker was born
Baby Kian was born
2.Kian finally met his cousin, Baby Kaima ( Adanma's twin sister baby)
baby Kian and his cousin, Kaima
3.When baby Kian clocked 1 month

Baby Kian at 1 month old
4.This is little Kian dishing out the Peace sign
Baby Kian
5.They say time flies when you have them? They were right! That #YellowIgboBoy loading
Already a stunner at 3-months-old
6. They definitely had a great time on the beach
Summertime with Daddy
7. Mummy can't be left out of the fun
beautiful mother and son moments
8.Every mother can relate to this

Adanna nursing her baby at a restaurant
9. When Daddy multitask

Soon you're going to be able to shave like daddy
10.Kian's Christening

Kian in all white for his christening
11.Adanna and Kian at his Christening

Kian posing for the camera before his christening
12.A Father's love on Fathers' Day
Father and son moments
13.Adanna's munchkin at 5-months-old

Now 5-months-old
14.When your son now knows how to dab, while simultaneously holding up a piece sign
Baby Kian
15.Mummy, I want some

At home with the Steinackers