DOKUBO ASARI EXPLODES, WE'LL STOP IBB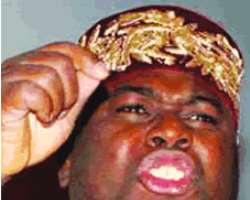 Dokubo
Many will remember Mujahid Dokubo-Asari for the gang wars that turned the Rivers State capital city of Port Harcourt into a garden of blood between 2003 and 2005. Pit against another dreaded gang leader at the time, Ateke Tom, their names evoked fear among residents of the famed Garden City.
Whenever they clashed, they left a trail of sorrow, tears and blood. But Dokubo-Asari metamorphosed into a 'freedom fighter', and through his group, Niger Delta Peoples Volunteer Force (NDPVF), began championing the Ijaw cause in what came to be regarded as the Niger Delta struggle. One of the consequences of his agitation was an almost two-year incarceration by former President Olusegun Obasanjo.
In the last eight months or thereabout, he had been on self-exile, having fled when he claimed his life was no longer safe in Nigeria. But his return to the country last week almost caused another stir as reports filtered out that some apparently overzealous security agents had arrested him at the Nigeria-Republic of Benin border at Seme. After about five hours, he was however asked to go. This was not before some highly placed Nigerians had intervened through phone calls from Abuja and all over Nigeria.
But the NDPVF leader, who has willy-nilly acquired fame, notoriety, and, perhaps, fortune, is an enigma of sorts. One moment, he talks softly and comes across as somebody that cannot hurt a fly. Almost immediately, the warlord in him manifests and he vibrates at the top of his voice – his passion effusive and vociferous as he kicks against former military president, Ibrahim Babangida's bid to return to power in 2011.
Hear him: '…how can anybody allow IBB to even campaign? Everywhere he goes they ought to chase him. It is not democracy to allow a man who made thousands of people to die campaign for power…IBB ought to be in prison. Nigerians can stop him.' Excerpts…
Last week, there were conflicting reports in the media about you being detained at the Seme border on your way into the country. What actually happened?
I arrived the Seme border about 1 o'clock in the afternoon and went to carry out documentation of the vehicle I came in.
We were almost through with that when somebody walked up to me that he was from the State Security Service and that I was wanted for questioning. I told him I was not ready for that and I stayed put in the vehicle. This happened about 1.43pm and throughout the period, I was in the car. They didn't molest me or even talk to me. I was there until 6.38pm when I was allowed to go. Before then, somebody who said he was the head of the (SSS) office at the border came and said I was wanted in Abuja. I told him I was not ready for that and he should contact Abuja himself. So about 6.38pm he came to me to say everything had been sorted out and that I can go.
What were you told was the reason you were wanted?
The Nigerian government since the time of (former President Olusegun) Obasanjo had placed my name on the international terrorist watch list. I have been harassed in the Netherlands, Germany and even in Ghana. They are not coincidental.
The government, since I came out of prison, had actually done a lot to show that it does not like me. My house in Abuja was invaded and my expatriate staff there were deported, even though they had legitimate visas. People close to me were shot at. Some were killed while others were wounded. I was outside the Niger Delta when this drama started, and three of them were shot in the legs.
Why were they shot?
It was alleged that some arms were discovered. Somebody in prison said I brought in 4,000 weapons to dismember Nigeria. Everybody knows that I am not a Nigerian and I want Nigeria to be dissolved because it is an evil entity. The government wanted to put me behind bars. I felt my life was not safe so I left.
You always say you are not a Nigerian. Yet you have investments in Nigeria, travel abroad and return to the country. What then are you?
I am an Ijaw man. Ijaw people are not Nigerians. People become members of a nation either by birth or naturalization. No person can impose nationality on another. What has happened is that the Nigerian nationality is being imposed on Ijaw people and others. According to the treaties that our forefathers signed and which ended in 1893, there is no provision in those treaties for anything known as Nigeria.
But did your father say he was not a Nigerian too?
My father can choose to say what he likes. Somebody can accept slavery. Somebody can accept second-class citizenship. Somebody can accept to be nobody. That is the person's business. But another can say, no I won't take such. There is a move by Texas to leave the United States of America. Quebec has continuously called for a referendum to leave Canada. If there is a level political playing field, they will allow for a sovereign national conference and a referendum to decide whether the Ijaw and other people want to be included forcefully in the entity called Nigeria or not.
There will continue to be agitations from people like me. But if the political space is opened up, there is no harassment and people are allowed to express themselves, there will be no need for armed struggle.
Coming from a silver spoon background, one could say there was really no motivation to go into armed struggle. Why did you take up arms against the Nigerian state?
It has to do with the history of where I come from. I am an Amachree. The Amachrees were the sovereign authorities in Kalabari Kingdom and this sovereignty was stolen by the British in the 1890s. As an Amachree, I have every duty to restore that dignity to my people.
Is it a personal battle?
It has nothing to do with a personal battle. Until 1894, New Calabar was an independent Ijaw nation like Grand Bonny and Nembe. Several other places were independent nations recognized internationally. The independence has been stolen from us by the British and we have been forcefully conscripted into the Nigerian state without consultation.
Haven't you abandoned the struggle by going into exile?
In every struggle, you have to migrate from the abode of oppression to the abode of safety. In South Africa, at some point, Nelson Mandela was outside; Oliver Thambo was outside. This is in tandem with all revolutionary struggles. Lenin was in Sweden, Fidel Castro was outside Cuba, and so all the revolutionary leaders have had to go out of their occupied territory to somewhere.
Some of you are believed to have used militancy to amass wealth…
I have always maintained that I am not a militant and I don't know the meaning of the word. I have never bothered to check out its meaning.
So how does one describe you?
I am Alhaji Dokubo-Asari, an Ijaw nationalist, fighting to redeem our nation from occupation and bring freedom to our nation.
With a Niger Deltan now at the helm of affairs of the country, is there still a reason for agitation and militancy in the Niger Delta?
In former Rhodesia now Zimbabwe, Alan Smith appointed Reverend Banaan as president while the real power resided with the minority white. In South Africa, they set up Bantustan for the blacks. In occupied Palestine, they set up the Palestinian authority that had no power while the Zionist apartheid government continued to kill and slaughter with the support of the United States and Europe, committing acts of genocide in Palestine. The struggle is beyond an individual. It is beyond Alhaji Dokubo-Asari, even Isaac Boro, Ken Saro Wiwa; so also beyond Goodluck Jonathan.
At most, Jonathan will rule for nine years. After nine years, if there is no obstruction by way of coup and other upheavals, a Pharaoh might occupy Aso Rock that does not know the Niger Delta. So we will be back to square one. This is the appropriate time for us to resolve the issues of sovereignty, nationhood and self-determination.
Are you not contradicting yourself by saying you are not a Nigerian but you are supporting Jonathan who is the Nigerian leader?
Why will I not support an Ijaw man? If an Ijaw man is there and no one else is around, who should I support? He is the only one I can support. For instance, how can anybody allow IBB (Ibrahim Badamasi Babangida) to even campaign?
Everywhere he goes they ought to chase him (voice rising). It is not democracy to allow a man who made thousands of people to die campaign for power. I was detained several times during the June 12 (1993) crisis. I was interrogated several times by the SSS and several people lost their lives. And this man comes out again when somebody like Pinochet in Argentina was sentenced. These are the contradictions we are talking about.
IBB should never show his face anywhere. How can I compare IBB with Jonathan? How can any reasonable human being compare IBB with Jonathan? IBB ought to be in prison. Nigerians can stop him. Anywhere he goes, people should come out en masse to make sure his rallies don't hold.
There must be a reason for putting IBB in prison
For annulling a free and fair election, which led to the death of thousands of people; for stopping the mandate of the people to choose; for stopping an elected president, carrying out a coup against the people. Look, if Nigeria should remain, it should first redeem itself. Posthumously, MKO Abiola should be sworn in as president and let it be recorded in the annals of this evil country.
A lot of people see IBB as being very powerful and that nobody can stop him from running in 2011
When people talk like that it brings us to what we have been saying that Nigeria does not exist. If Nigeria is a nation, power resides with the people. If power actually resides with the people, can one individual be so powerful that the people cannot stop him? The people who came out on June 12 (1993) and elected a president overwhelmingly for the first time have the power to stop IBB and I don't think he is so powerful. It is an insult to our sensibilities for a person like IBB to aspire to become president. In any civilized society, a person like IBB ought to be in prison.
Having said that, as an Ijaw man, if Jonathan decides to run in 2011, I have no choice than to create an environment that will make him to win. We will not allow anybody to come and spend money, use the police and thugs to harass people or invite military men not from the Niger Delta to come and harass our people. We will not allow it. So we will make sure we have free and fair election.
The only person that has shown interest today from the North that we can say is credible is maybe (General Muhammadu) Buhari. But will I sacrifice my own for another person? I cannot. Whether you call me a nationalist or a tribalist, I am already known as an Ijaw nationalist. It is only that which will favour my people that I will do. If he is not the wrong man, I will support him.
You talk passionately about issues concerning Nigeria, yet you say you are not a Nigerian
They occupy my land. They deny me the citizenship of my country by occupying it forcefully. Injustice anywhere is injustice everywhere.
What is your take on Gaddafi's prescription that Nigeria breaks up into smaller units?
I support him absolutely. I wish to shake his hand and hug him and kiss him and say, you are a good man. Gaddafi was the greatest supporter of the South African liberation struggle. What would Gaddafi gain if Nigeria breaks up? What benefit will accrue to him? Nothing. But if Nigeria remains as it is, the so-called Nigerians will go to Libya and constitute a problem. So it is better everybody goes their separate ways so the Igbo or Yoruba would grow at their own pace.
We can then come together to form a union of states. If the Igbo, Ijaw and other nationalities want to come together to form a confederation, whatever way they agree, they will continue. But at this point we will develop more if we go our separate ways. Everybody will not be looking for money from oil but will be struggling to survive from the resources available to them.
I had always said that Nigeria exists only in the imagination of the bandits in Abuja, so I do not need Gaddafi to tell me that. Nigeria is dragging the black race backwards because it is the most populous black territory in the world. Because of corruption, do you know how many billions we make and squander? Do you know that Rivers State makes more money than Benin, Togo and Ghana and there is nothing to show? People say the governor of Rivers is trying. We did not elect anybody to come and try.
The budget and revenue of Rivers is there. If you are not capable you cannot use the resources to impact on the lives of the people. No man has the right to take a dime other than that which he is entitled to under the law. If he takes anything outside what the law approves, he is a criminal and the EFCC must look for him and put him on trial. So, what Gaddafi said is the greatest statement that has come out internationally, because this is a man who has looked at our face and said: 'The solution to your problem is you cannot stay together.' People can say Dokubo-Asari is an agent of Gaddafi, so be it.
Has the amnesty granted former militants in the Niger Delta brought peace to the region?
There is no peace yet. Every day there is agitation. The JTF and oil companies have agreed that when issues affecting oil facilities like pipeline blow-up happen, they should deny it. But it is going on every day. Kidnapping is going on but they try to hide these things.
But people surrendered arms…
The criminals surrendered. That is the truth. Majority of them are criminals. But that does not mean peace. Recently, a Bayelsa State commissioner was kidnapped as well as a local government chairman. But at the height of the crisis, no local government chairman or commissioner was kidnapped.
Are you saying that Tompolo, Ateke Tom, Farah Dagogo and other known militant leaders who surrendered their arms are criminals?
Nobody is calling anybody a thief. I know Tompolo very well. I can say with all authority that he has never stolen or killed an innocent man. I was on the way from Saudi Arabia to Germany the day he accepted amnesty. Throughout the flight, I cried because it was something I never imagined. I had spoken with him two days earlier on the phone. I felt bad. He is younger than me, but our friendship was so strong and I felt the pain in my heart. I thought if there was somebody whose beliefs were close to mine, it was Tompolo's. Boyloaf used to work with me; he was our oil minister. Ateke and I had problems, which we have resolved.
What is your relationship with Henry Okah?
He is my enemy as we stand today. He has done so many things against me that I think a man should not do against a fellow man. Today, Dokubo-Asari is known all over the world and there are certain people that are key to it. Tompolo, George Timinimi, Dan Ekpebide, Kingsley Kuku, Okah and several others were key to my success in bringing this struggle to where it is. At the time I had nothing, they stood by me.
What role did Okah play?
He supplied me arms with open credit facility without taking money, even though I paid him all his money later. For now, he is owing me N43.3 million
How come he is owing you when he is supposed to be the arms supplier?
He supplied me and I paid him all his money and paid him extra to supply to my people when I was in prison. He collected it and refused to supply the arms till today. He also refused to return the money.
The person you are castigating is regarded as the 'Master' by other militants
I don't know if he is a master among the militants and that question ought to be directed at the militants. I am not a militant and I have never been one. But I want to say that the issue of Okah being addressed as a master came from me, Tompolo, Kingsley Kuku and a few others. Those of us at the early stage of the struggle were actually responsible for the reawakening of the Ijaw people.
The decision to militarily confront the enemies of the Ijaw people was between us – me, Timinimi, Tompolo and also Oboko Bello. We were actually responsible ideologically and militarily for reawakening the Ijaw nation to defend herself and her interest. Today, if the Ijaws are being reckoned with, I will say it is because of the roles played by these names I have mentioned. That is why sometimes we say that without us there wouldn't have been any Ijaw struggle. We are not boasting. Those benefits that have accrued to the Ijaw people can be traced to our roles.
Look, people say the Ijaw people, the rich men sponsored us. Tompolo as a young man, when the Warri crisis was hot and there was no money and we wanted to go to the creeks, mortgaged his house and took a loan from the bank for the Ijaw struggle. He was the richest among us.
How did he make his money?
He was not a criminal but he was the richest among us. That is the truth. He mortgaged his property and raised money for the first batch of weapons to be brought. No Ijaw elder contributed a dime.
Was that why you wept when he accepted amnesty?
Yes, I wept because I knew him. I say there was a bond among us – Timinimi, Kuku, Tompolo and myself. It was stronger than blood bond. Okah was not there. He was a businessman. For me, any business that was not unlawful and immoral, I engaged in it and dedicated everything I owned; somebody who had N10 million and does not have television set in his house. Immediately I got my money, the first thing I did was to call somebody to bring arms because we did not know when the next attack would come. The elders were afraid to contribute money. It was the youths who did.
There were others like Oronto Douglas, Patterson Ogon, who were talking about peaceful, non-violent agitation, but people like us from the very beginning made it clear that the Ijaw people will gain their independence only through armed struggle. My stand is that one gun shot is worthier than a thousand years of agitation. So, Okah as a person introduced certain elements that were inimical to our struggle. He said we must look for a way to make money as we cannot sustain the struggle except we have enough money to buy arms. That was where our disagreement started. For instance, when taking foreigners hostage was introduced, money began to come in.
From where?
From the government and the oil companies Yes, government was bringing money to free the hostages. State government like Rivers, Bayesla, Delta; oil companies such as Shell, Agip were all paying money. So everybody started kidnapping and criminals cashed in on this. If we had maintained the moral platform of our struggle, we would have been able to eliminate the counter- revolutionary elements among us. But we were mingling and swimming in the mud of hostage taking, bank robbery and blackmail to get money.
Is it true Okah attempted to free you from the Kuje prison?
He came to visit me at Kuje prison. After a decision was taken, people were taken to Okerenkoko to be prepared to free me. They decided that I should be freed in the night. So, I got all the keys of the prison through my associates in the prison. I had become very popular with the inmates. We looked for a way to get the duplicate of all the keys. I am saying this because, on my own, I got duplicates of all the keys.
But Okah opposed the night operation and said my wife and one of our senior friends should carry out the operation in the day. They will come in and disarm the guards and I would be released. But I thought it was foolish. First, the international airport was just by the corner. There is an air force base, also a police station, and where are we going to drive to? He said he had prepared a special vehicle that would carry me. As far as I was concerned that was not our plan. Our plan was for the people to storm the Kuje prison and release me because we had planned all the routes and boats were to come and pick them up at Lokoja and take us back, which he said was very risky and he did not contribute anybody.
So what aborted that plan?
He aborted it because he had ulterior plans to kill me. So Okah and some people started poisoning the minds of the people, including Tompolo and Boyloaf to desert the struggle. But the struggle is not about Alhaji Dokubo-Asari. I met it and if God had not been on my side, maybe I would have left the struggle; maybe I would not be alive today. So, instead of just being behind the scene, selling arms to us, he wanted to be at the centre stage.
When they were forming MEND (Movement for the Emancipation of the Niger Delta), one of the strongest commanders at that time was opposed to it. He said we have NDPVF (Niger Delta Peoples Volunteer Force), which I lead, and there is the IYC (Ijaw Youth Council). Let the IYC be talking and let NDPVF be fighting. But they said no, that they wanted a new name and they formed MEND. So Three Lions and some of the commanders who were NDPVF men left the camps and Three Lions would have been killed. He was captured by his fellow comrades for nothing, lied against and flogged. So at a point anybody who was still holding on to me was a target of assassination.
Okah is seen as the leader of MEND
Has he told you he is? Okah has nothing to do with MEND.
MEND fought for your release when you were in prison
I don't think MEND fought for me. MEND at that time was not formed as an organization but just a name to issue press releases. Most of the actions were carried out by NDPVF. I directed the Cawthorne Channel attack from prison with my telephone. I directed several attacks from prison. So, the major attacks carried out at that time were by NDPVF.
You said MEND was created to send out press statements, but each time there was an attack, it claimed responsibility. If MEND doesn't have foot soldiers, how is it possible to claim responsibility?
How many attacks have taken place since they called off their ceasefire? There were different groups of MEND and if you read their statements, you will know that there are different groups. Since Tompolo and Boyloaf surrendered, how many attacks have been carried out by MEND? People don't want to know the truth, so there is no need. Okah first brought up Farah to challenge and replace me. He later brought up Boyloaf to challenge Tompolo. When Boyloaf realized he was being used, he distanced himself.
Tell us about life in the creeks
The struggle was on a tripod – political, military and spiritual. The spiritual aspect is very clear: Do not kill innocent people, do not rape and do not destroy communities.
Did you observe those rules?
Yes, from the very beginning. As a Muslim, I did not participate in the Egbesu movement.
You said you don't believe in Egbesu. But did you have any narrow escape experience?
My dear, the mysteries of life cannot be explained by mere mortals. I was not even shot at alone; bomb was thrown where I was sitting and it did not explode even though I did not believe in Egbesu. At that time, in the camp there was a church, mosque and there were shrines. On Sunday, some of the fighters went to church. In the morning, while the Muslims prayed, the Christians too did their morning devotion. In the night, the Egbesu believers did their own because they do not worship during the day.
How many fighters were in the camp?
At times, we were up to 2000, and some times we were more than that.
You had both male and female fighters in your camp?
Yes, although where we had the Egbesu camp women were not allowed and because my camp was not Egbesu, females were there.
We heard all kinds of things happened in the camp, including engaging in sex orgies?
To be quite frank, I was the only person permitted in the camp, because I don't follow their Egbesu, to have my wives or those who were close to me come to my camp. Nobody arranged women for me. I don't smoke, I don't drink, I don't party and I don't keep late night. Women who smoke and drink cannot be comfortable with me, but I love women.
How did you get money to fund your agitation?
It was funded mostly by Ijaw people. Communities contributed money to push the cause.
It is believed that contrary to your claims, you are a terrorist working for some foreign governments to dismember Nigeria
That is true, but I'm not a terrorist. What is a terrorist? I have never terrorized anybody. It is my inalienable right to struggle for the liberation of my country. Now we have gone beyond the Ijaws. We are talking about Niger Delta people. In fact, we have gone beyond Niger Delta as far as I'm concerned. We are saying that we and our Igbo brothers join to form one nation. I advocate that because a nation that will be viable and strong will involve people who are intelligent, strong and hard working.
The years of militancy destroyed the resilience of our people. Today in the Niger Delta, people don't want to work. They want free money.
When we started, we never terrorized any oil company. I never collected a kobo from any company. We never kidnapped one person. The records are there. So when we asked the companies to leave, they left.
Were you involved in oil bunkering and other criminal acts?
I have never been involved in anything criminal. I have been involved in getting crude oil, refining it, selling and using it for the good of my people.
But you were taking it illegally?
No, it is the people who do not own it that are taking it illegally.
Were you paying for the oil?
Why would I pay for what belongs to us? The law is very clear; he who owns the land owns whatever is on the land. I own the land. When has the property of an Ijaw man become the property of other people? I don't accept going to take oil as an individual, the movement does. NDPVF is the movement for the liberation of Niger Deltans and it has the legitimate authority to collect it.
Who conferred that legitimacy?
The legitimacy was conferred by necessity because all other people have their responsibility.
Other groups could also make such claims
We are not quarrelling about that. What we are saying is, does such organization serve the good of the people?
To what extent has the NDPVF furthered the interest of the people?
Everything that has happened in Niger Delta that has put the region in the front burner of global attention after the death of (Ken) Saro-Wiwa was through the instrumentality of NDPVF. MEND was formed because of me, and who are the commanders of MEND? Boyloaf was our former oil minister, Young Shall Grow, Egberipapa were all NDPVF commanders and many others.
Why did they leave NDPVF for MEND?
Because of the high moral platform we established. Before I came out of prison, I made a vow to God and it was the most difficult vow I have made in my life. I said, God as I am going out, if any Ijaw man comes to fight with me, I will run. If he wants to shoot me, I will run; I will not allow him to kill me. After some time, my followers started crying about what was happening and that we must do something.
Since you didn't accept amnesty, where are your weapons now?
NDPVF does not subscribe to any agreement with the Nigerian government without an international umpire. Like what happened in South Africa, the Nigerian government will have to disband its military and police. It is not when two people are in conflict you ask one to surrender.
What you are saying is that you have not shifted ground in any way?
The Nigeria government is an illegitimate government. All the institutions in Nigeria are illegitimate institutions. To confer legitimacy on these institutions can only come through a sovereign national conference and the resultant plebiscite. Until that is done, the Nigerian government is founded on the 1914 amalgamation of the North and South, which is illegitimate.
This means you will continue to fight?
Yes, I will.
You are out of the creeks at the moment, what would make you go back?
I have never been out of the creeks
But you live outside the country?
No, going in and out of the creeks is not by being in the creeks. We have gone beyond that. What I am trying to say is let us talk peacefully. There is the Czechoslovakia model, which is the best model, or we face the Ethiopia model, which is after many years of fighting, we come back to square one. All my life I have only lived nine months continuously outside the shores of Ijawland. I am 46 years old. So for 45 years and three months, I have lived in Ijawland.
How many wives do you have?
As of now, I have three wives, but I am an Ijaw man.
Is it because you are Ijaw or a Muslim?
As a Muslim, I can have up to four wives, but I am also an Ijaw man. So it is not about having women that is important. What is actually important is what you do. I come from a background that believes that bonds are created between people by marriages. The belief among the Ijaws is that the blood of an in-law cannot fall on the ground where the in-laws are. And the best way to create the bond is through blood ties, that is, through marriage.
Since you do not smoke or drink, what gets you high?
Actually, you have to investigate about me. Even before I was born, it had been prophesied who I would be. One of my uncles saw me one day when I was still in secondary school and started crying. He said to me, 'I see blood all around you.' At that time, I was a member of the Deeper Life (Bible Church); I was a born again, and so I couldn't see any blood around me.
At what age?
I was about 11 or 12 years. He said he saw blood all around me and he kept telling me until he died. So both my paternal and maternal grandmothers started going to prayer homes to pray for me. Wherever they went, they were told that their son was in this world to accomplish a mission.
Tell us about your background, how you grew up
I grew up in a very peaceful environment, but I was very stubborn. According to my stepmother, I don't always agree when you say do this because I want to know why. My father stopped smoking because of me because each time he said smoking is bad, I told him but you are smoking.
Was your father polygamous?
No, my father was with my mother until she died and didn't remarry for a very long time. My father was a very quiet, honest and strong-willed man.
How many children did your father have?
He had four with my mother and five with my stepmother.
At what age did you leave home?
I didn't leave my father's house until he died. But I travelled a lot on my own. I was a man of my own. Even during family meetings when my father was alive, I was the only person who could tell him that what he said was wrong. The family is such that I have always divided it into two; my uncle, my father always tried to broker peace. My aunt was always with me. My father was a high court judge. Our compound has over 30 lawyers.
You are from that kind of family but you attended two universities and didn't complete either?
Yes, it is a mystery to me too but I think that is how it ought to be. Not only two universities; I will say I have attended more than five universities in Nigeria and abroad.
What makes it impossible to complete your university education?
I really did not need it because university education to me is just a meal ticket. So, if I have other sources providing meals for me and my family, why should I bother about having another meal ticket?
In the Netherlands, you told me you have about 16 children and you are training them to handle weapons. What kind of legacy do you want to leave for them?
The legacy I want to leave for my children is for them to love freedom and to be ready to lay down their lives to free themselves. My ancestors were not slaves; they sold people into slavery. Inasmuch as slavery is inhuman and condemnable, I won't allow another person to enslave me..
We are seeing a new trend in the Niger Delta. In March, there was car bomb explosion in Warri and another just occurred in Yenagoa. What does this portend?
It is very dangerous and it is not part of our struggle. The NDPVF started the culture of planting bombs when I was in prison. The first one was planted at the Bori Camp (in Port Harcourt) in 2005. It exploded and people died. Immediately that happened, I stopped it. I called them and said we will not do that again.
The IYC seems to be going through a transition crisis at the moment. As a former president of the group, what do you have to say?
I think it is unnecessary. The Ijaw Youth Congress was formed as a revolutionary movement but along the line it was corrupted. People who don't have the capacity to lead the organization have suddenly appeared and they want to use the group. So, you have people going around, those so-called ex-militants who want to play important roles. As Ijaw people, they are free to do so. But for us who have been in this struggle, we felt that somebody