MYTH OF CAT WITH NINE LIVES BROKEN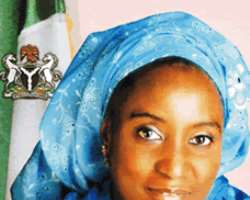 Turai Yar'Adua
In December 2006, when the People Democratic Party (PDP) announced Alhaji Umar Musa Yar'Adua as its presidential candidate, it was obvious that the former president's date with history was near. At the time of his nomination, it was obvious that he was an unwilling horse, which could be said to have been, figuratively, dragged to the water. The plan to be president was not originally his.
Until he fell critically sick last November, which was about two and year years into his government, Yar'Adua's persona did not stopped raising dust.
His constant visits to the hospital did put him in the news. Sometime in 2001, a retired hunter and psychiatric hospital staff in Katsina, Malam Sani Maigemu, had granted an interview to one of the newspapers, saying that Yar'Adua had mental problem in his youth. He said that the late president was flogged and chained, at that time, while receiving treatment in the psychiatric hospital.
The traditional healer said he treated his patients with concoction made from roots of plants, soap, and palm oil, and also applied chaining, flogging and beating on patients who proved either violent or stubborn. He said that Yar'Adua fell into the latter category. According to him, he had successfully cured Yar'Adua of his mental illness, as a child.
While he was governor, Yar'Adua went in and out of office. At one time, he stayed about six months away from his official duties. He, however, managed to complete the two terms of eight years. As president, Yar'Adua had health issues that took him to hospitals abroad. At a time, in 2008, he was rumoured to have died. He however, made it.
However, the myth of a cat with nine lives could be said to have been broken, as he could not survive the last health problem. He succumbed to the clutches of death on May 5, 2011.
President Yar'Adua was born in Katsina town, Katsina State in 1951. He started his primary education at Rafukka Primary School, Katsina in 1958 and left for Dutsinma Boarding Primary School in 1962 where he completed his primary education between 1962 and 1964.
Between 1965 and 1969, Yar'Adua was at Government College, Keffi in present day Nasarawa State for his secondary education, from where he moved to the famous Barewa College, Zaria for his Higher School Certificate between 1970 and 1971. For his university education, Yar'Adua attended the Ahmadu Bello University (ABU), Zaria from 1972-1975, where he obtained the B.Sc Education in Chemistry. He returned to the same university from 1978-1980 for his M.Sc Degree in Analytical Chemistry.
Yar'Adua's working career began at the Holy Child College, where he did his National Youth Service Corps (NYSC) between 1975 and 1976. He was a lecturer at the Katsina College of Arts, Science and Technology, Zaria between 1976 and 1979. He moved to Katsina Polytechnic, also as a lecturer in 1979 and was there until 1983 when he left the public service.
Yar'Adua's movement to the private sector started at Sambo Farms Ltd in Funtua, Katsina State as its pioneer General Manager between 1983 and 1989. He served as a Board Member, Katsina State Farmers' Supply Company between 1984 and 1985, member, Governing Council of Katsina College of Arts, Science and Technology, Zaria and Katsina Polytechnic between 1978 and1983, Board Chairman of Katsina State Investment and Property Development Company (KIPDECO) between 1994 and1996.
He was Director of many companies, including Habib Nigeria Bank Ltd. (1995-1999); Lodigiani Nigeria Ltd. (1987-1999), Hamada Holdings (1983-1999); and Madara Ltd. Vom, Jos (1987-1999). He was Chairman, Nation House Press Ltd, Kaduna between 1995 and1999.
Yar'Adua's foray into politics began as a lecturer when he became an active member and mobilizer for the defunct Peoples Redemption Party (PRP). During the transition programme of former President Ibrahim Badamasi Babangida, he was one of the foundation members of the Peoples' Front, a political association under the leadership of his elder brother, the late Major General Shehu Musa Yar'Adua. That association later fused into the defunct Social Democratic Party (SDP). Yar'Adua was a member of the 1988 Constituent Assembly.
The former president was a member of the party's National Caucus and the SDP State Secretary in Katsina and contested the 1991 governorship election, but lost to the candidate of the National Republican Convention.
At the inception of General Abdulsalami Abubakar's transition in 1998, Yar'Adua founded the K34 political association, which later merged with others to form the Peoples Democratic Party (PDP). He contested and won election as governor of Katsina State in 1999 and was re-elected in 2003.
Yar'Adua would be best remembered as the first governor to publicly declare his assets. He was honoured with many other awards for prudence and accountability, among which was NUJ Abuja Council (2003); NUJ Kaduna Council (2005) and Leadership Watch (2004).
He also won the National Primary Education Productivity Merit Award in 2004 and the Central Bank of Nigeria (CBN) Best Governor Award under the Agricultural Credit Guarantee Scheme (ACGS) in 2005.
In 2000, during his administration as governor, Katsina became the fifth northern state to adopt sharia or Islamic law. In 2002, Amina Lawal, a woman from Katsina, was sentenced to death by stoning by a sharia court, in the town of Bakori for committing adultery. Her story attracted international attention. Her sentence was, at first, upheld by a court in the town of Funtua, but overturned a year later, following an appeal.
Yar'Adua enjoyed reading and playing squash. He once challenged those who said he was not medically fit to a game of squash.
He married Turai in 1975; and they have seven children. One of their daughters, Zainab, is married to Kebbi State governor, Usman Dakingari. Another of their daughters, Nafisat, is married to Bauchi State governor, Isa Yuguda.
Yar'Adua's marriage to Hauwa Umar Radda in 1992 produced two children.