CAN WIGAN STOP CHELSEA'S PARTY?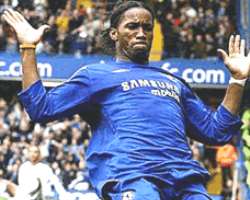 Chelsea's Didier Drogba
The die is cast! By sundown today, the winner of the 18th edition of the English Premiership would have been known. Only Wigan Athletic can stop Chelsea from toning the victor's song, as the 20-team league adjudged to be the best on planet earth ends.
Victory by Chelsea at Stamford Bridge will hand the team its third league trophy after it won the diadem back-to-back in 2005/06 under 'The Special One', Jose Mourinho, who is currently managing Inter Milan of Italy.
Since then, the Blues has been playing second fiddle to Manchester United. But with the arrival of Carlo Ancelotti last year, the fortune curve of the team is steadily looking up.
When Chelsea defeated Manchester United 2-1 at Old Trafford on April 3, it became clearer that this season might be going the Blues' way. And with the 2-0 defeat to Liverpool on Sunday, Chelsea's chances of claiming the trophy became as clear as daylight.
But wait a minute. Ancelotti and his playing staff will have to clobber Wigan to submission to make the outcome of Manchester United and Stoke City's tie irrelevant.
Expectedly, the Blues will be rolling out all the attacking options under the sun. It cannot neglect Wigan. The middle-of-the-park outfit is happy to escape relegation and so, has nothing much to play for in today's cliffhanger. However, it goes into the encounter on the strength of a thrilling 3-1 chastisement of Chelsea on October 26.
Already, team manager, Roberto Martinez, has issued a warning that Chelsea should not forget that defeat at DW Stadium in a hurry, insisting that his team remains a side capable of putting spanner in the works.
It needs to be taken seriously. Apart from whacking Chelsea, it has equally cut down Arsenal and Liverpool this season and might be in the frame to hit Chelsea again to halt its march to glory, with Colombian forward, Hugo Rodallega on the attacking line.
That not withstanding, a cloud of doubt still hovers around Wigan's ability to do the spectacular at the Bridge. Just last weekend, it forced visiting Hull to a 2-2 draw. Its paltry three away victory record does not cast it in the mould of a team to stop Chelsea still playing with fire in its belly.
The Blues, apart from winning to shut out Manchester United, will be looking for its 17th home win of the season. Right at the Bridge, it has fired in 60 Premiership goals, conceding just 14. Such is the strength of Chelsea right before its faithful.
The game will offer Chelsea's players lots of opportunities to create history for themselves. Didier Drogba, whose opener on Sunday helped to kill the game against Liverpool at Anfield, will be aiming to overtake Manchester United's Wayne Rooney on the goalsocers chart. Both players are tied on 26 goals.
For mercurial Frank Lampard, the outing will be his 468th appearances for Chelsea, and if he scores, he would be raising his Premiership goals bar up from its current 128 status.