P-SQUARE FINALLY MOVES OUT OF CONTROVERSIAL OMOLE HOME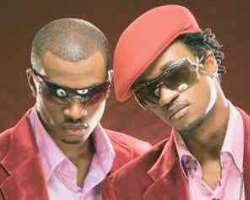 PSquare
After a protracted battle with their landlord, pop stars P-square have finally abandoned their Omole home.
The Okoye twins and their landlord, Charles Nwangwa, had been at loggerheads since last year, following allegations by the latter that they defaced his property and manhandled him. The battle transformed into a media war, after Nwangwa called a press conference and shared detailed of P-square's tenancy with the public.
Interestingly, before the landlord showed up on the scene, many believed P-square owned the property, especially since they had themselves, told reporters, shortly after moving in in 2007, that they acquired the property, with an arrangement to pay in instalments.
Their landlord issued them a quit notice last year, in the heat of the battle.
Sources close to the band told e-Punch they have moved into a hotel, pending their trip to Europe and the US. But the duo and their brothers are only homeless temporarily. Their own property, situated in the same neighbourhood as their old home, is nearing completion. It is expected that they'll move in in a matter of weeks.