NEPC, World Bank, Others Team Up to Export Nigerian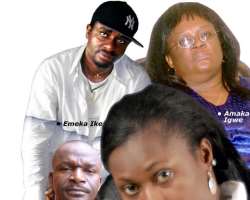 A COLLABORATION that will ensure that the Nigerian entertainment industry is taken to the international market on Tuesday, started in Lagos with the World Bank setting aside a whopping $20 million to the project.
The Nigerian Export Promotion Council (NEPC), World Bank, National Film and Video Censors Board (NFVCB), Nigeria Film Corporation (NFC) and Nigerian Copyright Commission (NCC) are teaming together in a project termed, "Harnessing the Nigerian Entertainment industry for Formal Export," which they believe will earn Nigeria huge revenue in foreign exchange.
NEPC Executive Director/CEO of NEPC, David I. Adulugba Esq. in a keynote address at the event delivered by Mrs. Omowunmi Osibo, Director, Product Development of the agency noted that "part of the NEPC strategy was to facilitate opportunities for entrepreneurs who wish to go into exports."
He said the NEPC is doing collaborarative efforts as well as partnering with relevant agencies and stakeholders to see how "our music producers can be granted access to finance their productions."
The NEPC boss also criticised the activities of pirates, whom he said have rubbished the success the music industry has recorded, adding that "piracy has affected the careers of many Nigerian musicians that could have contributed to the global music industry, which value he put at about $40 billion.
Adulugba said he believed that collaboration would mark the beginning of milestone towards the development of the entertainment industry as one of the products that can increase the basket of exportable products from Nigeria.
Earlier in his welcome remarks, Mr. M. O. Ibrahim, Area Controller, South, said the NEPC had identified entertainment industry as one with huge potential in terms of generating foreign exchange earnings for Nigeria.
He said with cooperation, the collaboration effort would be able to uplift the fortunes of the entertainment industry to the benefit of the nation.
He pointed out that since the works of Nigeria's entertainment industry have a global audience, such should spur the collaborating efforts opportunity to take a closer look at the industry and work out strategies to move it ahead.
In her paper, titled: "Developing the Nigeria's Entertainment Industry for Export," Mrs. Osibo said the entertainment industry in Nigeria, "offers potential for growth and value addition for the Nigerian economy."
She explained that the Nigerian music industry produces an average of 550 albums of different types of music annually, adding that an estimated 1,200 concerts and musical shows take place every year and account for a combined annual turnover of US$105.5 million.
While the mapping of the creative industries of Nigeria still has not been done, it is time that the Federal Government should consider the contribution of the creative industries to the gross national product very seriously.
The United Nations' Creative Economy Report 2008 demonstrates that creative industries are powerful engines for economic growth and trade development in developing countries. This is true not only in terms of direct economic impact from the sale of goods and services but, importantly, also as a multiplier in other sectors by stimulating new business opportunities and enhanced capacity.
The global market for traded goods and services of the creative industries has enjoyed unprecedented dynamism in recent years. Their global export value reached $424.4 billion in 2005, accounting for 3.4% of world trade, compared with $227.4 million in 1996, according to the United Nations Conference on Trade and Development. Over the period from 2000 to 2005, creative industries' share of global markets grew at an annual rate of 8.7%, a trend that is likely to continue, given the positive prospects for global demand. Exports of creative services increased by 8.8% annually, rising from $38.2 billion in 1996 to $89 billion in 2005.
While developed countries have dominated both export and import flows, developing countries year after year have increased their share in world markets for creative products, and their exports have risen faster than those from developed countries.
Exports of creative goods from developing economies accounted for 29 per cent of world exports of such goods in 1996 and reached 41 per cent in 2005, with China alone accounting for 19 percent.
The dynamism of developing countries' exports of creative products is new.