GENEVIEVE DENIES DBANJ, SAYS 'HE'S NOT MY KIND OF MAN'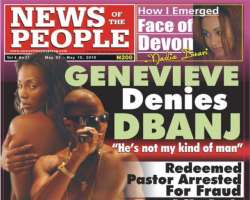 It actually rocked the entertainment scene when the news filtered out that D'Banj and Genevieve have had love locked down. Though, D'Banj's confession in one of the interviews granted on the sizzling romance tale with Genevieve made many people fell for what those in the know alleged to be publicity stunt, Genevieve inability to hit it straight during her own interview had made the story more doubtful.
The highly celebrated amorous affair, we have gathered, is a scripted scene in D'Banj's yet to be released musical video of his popular song titled 'Fall in Love'. The sexy and very articulate star actress, Genevieve, mother of one who jumped into music sometime ago, we learnt, confided in her friends when the tale of their rumooured affair hit the street that D'Banj is not her kind of man "It's ridiculous, though, D'Banj is not a bad guy, the fact however remains that, he's just not fit into my kind of guy" Sshe was quoted to have said.
It's no doubt that Dapo Oyebanji, the maverick hip-hop singer popularly called D'banj's good dress sense, swagger on stage, amazing sense of humour and coded vulgar lyrics which always turn ladies on, are some of those qualities and reasons he's better been referred to as ladies man. While some ladies prefer his stage craft abilities some would rather imagine D'Banj live in their beds. Unarguably, Genevieve Nnaji, the Nollywood super actress, stills the pick among the pack of Nigeria's sexiest screen sirens that men are dying to date.
"The fact that Genevieve was handsomely rewarded for the role she plays in the musical video has not made her to be linked romantically with the kokomaster. As I am talking to you right now, she is not comfortable at all with the whole set up." Her friends said.
Compiled By Alonge Michael for www.nollywoodgists.com